9. GQ and Kate Winslet: the debate today
by Tony Quinn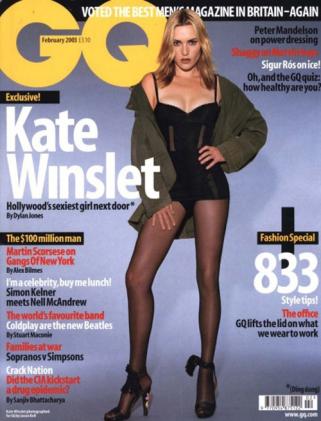 Kate Winslet described her 'stretching' for this GQ front cover photograph as 'excessive', but it resulted in great publicity for the magazine (February 2003), according to editor Dylan Jones:
'With Kate, we were thrilled, said GQ editor Dylan Jones. 'It was a full page in all the tabloids ... And the fourth bong on the News at Ten [referring to the chimes of Big Ben that are interspersed between the headlines of the ITV news programme]'
Controversy is essential for magazines such as GQ and Vogue because of the free publicity – and hence sales – it generates.
For some celebrities, digital manipulation is used to alter their public image.
| | | |
| --- | --- | --- |
| | | |
| Feb 2008: a chubby, bolshy 'brat' for the News of the World's Fabulous supplement | | May 2008: changes in styling and use of Photoshop result in a slimmed-down Kelly Osbourne on front cover of the Independent's Extra |
Kelly Osbourne can change her look to suit promotional purposes – compare the upper arms and shoulders in these two images – and easily make herself look different or 'new'
---
Page 10: Eugenie and Tatler: look what they did to my heir