10.Tatler and Princess Eugenie: Look What they did to my Heir
by Tony Quinn
Birthday photographs of Princess Eugenie, 6th in line to the English throne, were touched up both on the cover and inside Tatler magazine in April 2008. Whitening eyes and teeth and removing skin blemishes would be standard on such magazines, but the treatment here went further, as the Daily Mirror article below pointed out in great detail a few days later. The touching up in Photoshop included:
Teeth: whitened and gaps filled
Jawline: smoothed and puppy fat removed
Nose: smoothed to look sleeker
Boobs: reduced for svelte look
Skin: given 'an exagerated porcelain appearance'
Neck, shoulders and upper arms: slimmed down
Figure: curves removed to take her down a dress size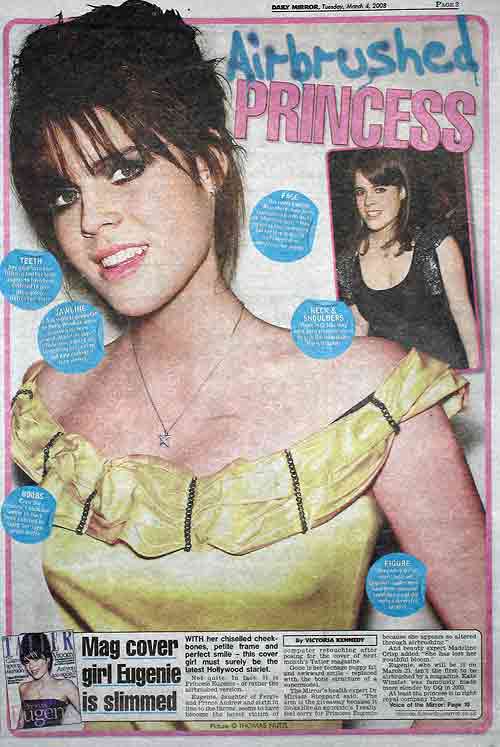 Commentators raised the issue of how young women were being treated in magazines and the example added to the controversy about whether such artificial perfection was damaging their view of themselves.
More on the airbrushing of Princess Eugenie: A tale of being Tatlered à la Princess Eugenie
---
Page 11: Slick Economist cover attacked