Car magazines: a watershed
by Tony Quinn
The ending of an economic recession is the signal for publishers to start launching and the second half of 1993 was no exception. Emap and BBC/Redwood were off the mark in September, both launching car magazines in that month, but their fortunes were very different. The former's efforts resulted in a classic failure; the latter ended up with a market leader. Another player was Perry Motorpress, which waited till the other two were off the mark and outlived one of them.
Circulation figures: Top 5 car magazines
---
Car magazines in 1993

The early years of the 1990s were marked with a recession, depressing car sales and hence the advertising market for magazines. IPC sold Fast Lane, which its Business Press International division had launched in April 1984, to Perry Motorpress, a joint-venture in the UK between Germany's Motor-Presse and Gruner and Jahr, in April 1991. Motor-Presse had a big share of the motoring press market in Germany and Fast Lane was 'relaunched, revamped and revitalised' with an advertising campaign in early 1992.

In 1988, before recession took hold, the two oldest weekly car magazines had been merged by Haymarket: Motor was folded into Autocar (founded in 1895) to become Autocar & Motor (the Motor name was soon dropped). Motor had been founded in 1903 and was bought from Prospect magazines, a division of Reed Business Publishing. This left a gap in the market, which was spotted by another German publisher, Springer Verlag.

Springer offered UK publishers the opportunity to adopt its Auto Bild formula (big on images, short on text) and join a European grouping with access to news and photographs (Auto Europe Group, then with the title in Germany, Italy and France, but with 35 editions in 36 countries in 2010).

The French franchise was Auto Plus (published by Emap France).

At least two companies made bids, Redwood Publishing (just as it was being taken over by BBC magazines) and the United magazines Publishing Services arm of Express Newspapers. The latter won and launched Auto Express in 1988.

By 1993, Express Newspapers had a disparate collection of a few consumer magazines and Auto Express, its only motoring title, was the best-selling weekly.

Rival Haymarket published the best-selling monthly What Car? (134,000). (What Car? had been involved in its own interesting project – a CD-Rom holding an extended review of a Saab saloon. This was an experiment with XYZ, a new media magazine.)

The other kid on the car magazine block was Emap – East Midlands Allied Press. Its roots were in regional newspapers, but its history as a magazine publisher went back to its first hobbyist launch in 1953, with the weekly, tabloid newspaper format, Angling Times. It had followed this with Motor Cycle News in 1956. By 1993 it was the UK's second-largest magazine publisher.

Also, in 1991, it had bought Car from Murdoch magazines. This had been launched in the 1960s and had a reputation in the motoring press as a stylish monthly with opinionated, quality writing and 'spy' photography of new cars. (Interestingly, Car was still typeset in hot metal. At Emap, it moved to Apple Macs and Quark XPress, bypassing paper-based typesetting.) Emap decided to launch Carweek with Gavin Green as editor.
---



Emap launches Carweek

In July 1993, the advertising industry weekly Campaign reported that McCann-Erickson had been appointed to run a £3 million campaign for Carweek, Emap's biggest launch yet. (A Marketing report on 19 January 1995 said another £10m had been earmarked for advertising in the first five years.) The agency had run campaigns for other Emap titles, including the film magazine Premiere, and women's monthly New Woman. Emap National hoped to overtake Haymarket's Autocar & Motor as the dominant motoring weekly.

Emap's chosen format was not an A4 magazine, but a tabloid newspaper (366 by 290mm, almost A3), making it able to "hit harder with photographs", have tighter deadlines and keep the cover price down. It was printed web offset by Hunterprint in Corby on newsprint in full-colour. The magazine also printed north-south regional editions to attract local classified advertising.

Of course, Emap had several tabloid specialist magazines so knew the format well. It had also launched Classic Car Weekly as a tabloid in May 1990, a magazine that is today published as an A4 magazine by Emap's successor, Bauer.

The first issue, at £1, was dated 25 August 1993. The timing coincided with the Motor Show at Birmingham's National Exhibition Centre and the Frankfurt show in Germany, where many cars would be seen for the first time. The extent was 56 pages, plus a bound-in used-car section on pink newsprint running to 60 pages (printed mono). Editorially, it was structured with motor sports reading from the back page, like a newspaper, instead of advertising (as in most magazines). Paper stock for the cover was the same as the inside pages. The main paper carried 17 pages of advertising on a rate card of £3,000 a page.
---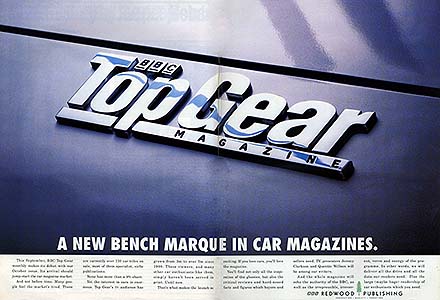 ---
BBC/Redwood launches Top Gear

In September 1993, Redwood Publishing, the BBC Enterprises subsidiary, launched Top Gear off the back of the TV series. Its presenter Jeremy Clarkson was to become a phenomenon, bringing the laddish air of Loaded magazine to what had been a steady but dull TV series. There was controversy over the BBC's Good Food and Gardener's World, which were seen as benefiting from free TV advertising that would have cost millions for publishers to buy.

'Redwood capitalises on TV show for monthly magazine debut' read a headline in Campaign (6 August 1993). Top Gear was not expected to destroy other car magazines, but to expand the motoring press in terms of readership and advertising. Launch advertising was done in-house, with the agency WCRS doing the media planning and buying. It was Redwood's biggest launch campaign, but there was an emphasis on attracting readers through the TV programme.

Kevin Blick was editor, with Marcel Ashby, who had designed Redwood's one-off BBC sports titles.
---



Perry gets ready

In the 24 September 1993 issue of Media Week, just as Emap and BBC/Redwood were launching, Perry-Motorpress announced it was to launch a general monthly car magazine, Complete Car. A big campaign was planned with TV advertising. The title could sit alongside performance magazine Fast Lane, and would be able to draw on material from the European network of Motor-Presse in Stuttgart. The managing director of Perry-Motorpress, Nick Perry, said: 'We wanted to launch into a known market rather than guessing what our competitors were up to. Jessica Trace, from Car, was advertising director and John Blauth, former editor of Company Car, editor-in-chief.

The ambitious launch was set for 10 February 1994 with a campaign 'thought to be worth more than £1 million'. Like Carweek and Top Gear, Perry promised advertisers a guaranteed circulation, in this case 100,000 and a minimum issue size of 180 pages and a separate car price guide.
---



Weeklies fight it out

Auto Express did not take Carweek's arrival lying down. It adopted the Fleet Street tabloid tactic of a 'spoiler' to cash in on the publicity surrounding the launch and confuse buyers:

"new" cover flash (referring to a supplement);
second-hand car supplement, similar to Carweek;
cover price of 95 pence, against Carweek's £1;
heavily-promoted cover exclusives;
two competitions, including one to win a Mini Cooper.

Furthermore, Carweek did not fare well. It faced aggressive tactics from established competitors, and, a couple of weeks later, BBC magazines launched Top Gear off the back of the TV programme. Its presenter Jeremy Clarkson was to become a phenomenon, bringing the laddish air of Loaded magazine to what had been a steady but dull TV series.

However, the biggest problem was the format – Carweek did not fit on newsagents' shelves. They laid it down on the bottom shelf with the tabloid newspapers; not where buyers expected it. So many bought Auto Express or Top Gear instead.

Carweek reportedly sold 90,000 copies of the launch issue, about the same as the competitors. However, given that figure, industry wisdom would suggest a settle-down circulation of 55,000-65,000, well below break-even and a third less than Auto Express. (This is because many readers will sample a new magazine, but return to their tried and tested regular read).
---



Emap makes changes

In response to disappointing sales – the October 6 edition sold just 50,111 copies – Emap made changes, including promotions, such as:

more win-a-car competitions (issue 2 had run one to win an Aston Martin);
putting the magazine in a plastic bag with a free Motor Show guide (issue 6) – sales hit 148,111;
giving away sample copies of Carweek with Car (issue 8). This meant printing special covers, putting the magazine in a bag and inserting a sheet of card to give the package more stiffness on the shelves.

In addition, advertising included:

a spot-colour half-page in the Guardian, with a corner flash: 'At your newsagent now, find it with the newspapers'. However, many newsagents had started to put it on the shelves by laying it on its side, or folding it over.

These changes did not work. In January 1994, a disappointing sales figure of 80,229 for the first three months was released – almost 20,000 short of the 100,000 guaranteed to agencies.

Emap switched to full colour in January and reduced the size slightly, to a cut-down tabloid format (330mm deep). This meant it would fit on newsagents' shelves. The regional editions were combined. 'The slight reduction in size will enable retailers to display more copies, more visibly,' Malcolm Gough, Emap National Publications' managing director, said. Deputy editor Rob Munro-Hall was promoted to run the show (issue 29). Advertisers might have felt the colour on newsprint compared poorly with glossy rivals and disliked preparing special film to match the magazine's size (10 pages of display advertising in issue 29's 64 pages).

By mid 1993, Auto Express had an audited sales figure of 93,413 copies and a colour page advertising rate of £7,150. Haymarket's Autocar took a hit of 3,000 copies to sell 80,117 with a page rate of £5,600. Sales of Carweek for April to June 1994 were 72,476. They continued to fall, so it was relaunched again, in an A4 magazine format with coated paper and a glossy cover. Motor sports coverage was reduced. Full page adverts in the magazine promoted a subscription of £25 a year – half the cover price. Now it looked just like Auto Express.
---
| | | | |
| --- | --- | --- | --- |
| | | | |
| Carweek launched as a tabloid newspaper | 'Chopped down' format kept tabloid width | As an A4 magazine after a year | |
---
Emap gives up

In January 1995, about 18 months after launch, Carweek closed. About £7 million had been spent on the title, but it was selling just 50,000 copies. It was a big set-back for Emap with its most high-profile launch. In a Guardian report (17 January 1995), chief executive Robin Miller blamed the failure on:

tougher-than-expected market conditions;
rising paper costs;
a failure to execute the launch well enough;
poorer new car sales than expected, making it harder to sell advertising.

Yet, Emap's big mistake was that Carweek didn't fit on newsagents' shelves. Also, newsprint went against the glossy magazine trend. BBC/Redwood magazines had already run rings around Emap's gardening titles with the launch of the glossy, more up-market Gardener's World. Critics regarded Emap's thinking as old-fashioned. The format changes were too little and too late. It had no 'unique selling point' as a magazine. It was a failure Emap wanted to forget.

Express Newspapers decided to close its consumer magazine operations and focus on business and trade magazines. Auto Express was sold to Dennis Publishing.
---
And what of Perry?

In January 1994, Perry-Motorpress suspended Fast Lane, blaming the move on 'a congested market'. However, Complete Car hit the streets on February 10 and Nick Perry, managing director of Perry Motorpress, claimed the first issue 'comfortably passes' advertiser guarantees of 100,000 sales. At the same time, official sales figures on established titles came out, which saw What Car? down 6% at 133,129 and Car down 7% at 116,164. Top Gear put out its own, unofficial, figures, claiming top spot with 144,562 copies sold. Emap's new monthly, Max Power, snook in at 83,304.

Complete Car did well enough at first. It ran some creative promotions, including a competition swipe card on the July cover to win a car at Mitsubishi dealers, and a bulk distribution deal that saw Posthouse hotels give 15,000 copies to guests. But all was not well. In January 1995, editor Blauth resigned and was replaced by Wolfgang Konig, who revamped the title for the April issue. Although Complete Car claimed a first year's sales figure of 121,175, sales had slumped to 48,000 in 1996. In June 1995, Perry Motorpress announced it would be relaunching Fast Lane in 1996. In June 1997, Motor-Presse finally closed Complete Car. The company formed an alliance with Haymarket to co-operate on pan-European surveys and research. Subscribers to Complete Car were sent the weekly Autocar, which carried the Complete Car logo for a time.

---

... and Top Gear?

The BBC had the advantage of Jeremy Clarkson and its TV programme watched by 5 million people. A close tie-up between programme and magazine, combined with good design, an assured editorial hand and on-screen promotion led to it becoming the best-selling monthly in the motoring press.

Top Gear held the top spot into 1995 and expanded the market. Its appeal was summed up by Mark Waugh, of media agency Optimedia: 'Top Gear's launch marked the advent of the car magazine as a truly accessible read, as opposed to an enthusiast's read or a car-buyer's Bible.'

However, by the end of 1995, the new star on the block was another Emap title launched a few months before Carweek – the 'no jargon, no bullshit' magazine with attitude Max Power. Its blend of lad's mag and boy-racer appeal saw sales hit 160,000 – 10,000 ahead of the BBC title. However, by 2008, the lad's mag formula had gone off the boil and its sales of about 45,000 were well below rejuvenated market leader Top Gear with more than 200,000.
---
Top five consumer car magazines (2003)

Title
Publisher
Frequency
Sales (2003)*
Max Power
EMAP Active
monthly
239,668
Top Gear
BBC magazines
monthly
144,583
What Car?
Haymarket
monthly
138,832
Fast Car
Highbury-SPL
monthly
127,620
Car
EMAP Active
monthly
107,662

*Source: ABC Jan-Jun 2003
---
Car magazines: details and sales

Title
Publisher
Launch
date
ABC sales
Jan-Jun 2003*
AA Magazine
Future (contract for Automobile Assoc.)
1991 (Redwood)
4,679,950
Austin Magazine
Austin Motor Co.
1911
closed
Autocar (weekly)
Haymarket
1895
68,228
Auto Express
(weekly)
Dennis
23 September 1988
(United)
94,700
Auto Woman (Ireland)
Smurfit Communications
?
11,013
BMW Magazine
Cedar Communications
1986
252,748
Car Buyer
Wordzone Automotive
Nov 2002
closed
Car
(see Small Car & Mini Owner)
Bauer/Emap Automotive/FF Publishing
January 1966 (1962)
107,662
Carweek
(weekly)
Bauer/Emap
Aug 1993
closed
(Jan 1995)
Classic & Sportscar
Haymarket magazines
1982
89,790
Classic Cars
Bauer/EMAP Active
1973
55,385
Classic Car Weekly
Bauer/EMAP Active
1990
20,350 (in 2021)
Complete Car
Perry-Motorpress
1994
closed
Evo
Dennis
Nov 1998
(MMC)
67,746
Fast Car
Highbury-SPL
1987
127,620
Fast Lane
Business Press International (IPC)/ Perry-Motorpress
April 1984
closed 1994
Fast Road & Track Day
WheelWrite Publishing
Feb 2004
closed
Ford Magazine
Forward contract for Ford
Winter/Spring 1995 (BLA)
1,011,000
Ford Times
Ford Motor Co.
pre-1963
closed
iMotor (free digital magazine)
Dennis
17 July 2008
n/a
Intersection
Dazed & Confused
Summer 2002
n/a
JTuner
Future
June 2005
n/a
Max Power
Bauer/EMAP Active
May 1993
n/a
Motor
IPC
1902
(Temple Press)
taken over by Autocar 1988
Motor Racing
?
1947 (as IOTA)
closed
Motor Sport (founded as Brooklands Gazette, changed name in 1926)
Haymarket (since 1997)
1924
28,117
Motoring
Nuffield
pre-1963
closed
Motoring & Leisure
Civil Service Motoring
Association
1986
361,859
Motoring Life (Ireland)
Cyndale Enterprises
pre-1963
8,000
(uncertified)
Octane
Octane Media
Jul 2003
n/a
Practical Classics and Car Restorer
Bauer/Emap Active
1980
70,301
Practical Motorist
George Newnes
1954
closed
Redline
Future
Apr 1988
71,071
Renault Magazine
Brooklands
?
342,086
Revs
Bauer/Emap National
Aug 1996
uncertified
Safety Fast
British Motor Corporation
1959
closed
Safer Motoring
Published by Robert Wyse, a subeditor at the Sunday Pictorial, for the 75,000 Volkswagen owners in the UK
1961-?
closed
Small Car & Mini Owner
FF Publishing
September 1962
Changed name to Car in 1966
Sports Car
?
1956
closed
Super Cars
Egmont
2004
uncertified
Test Drive Monthly
Dennis
2004
n/a
Top Car
Security Publications
Nov 1990
closed
Top Car
Topmedia
Jul 1999
closed
Top Gear
WS Blissett, Glasgow
1950-64?
n/a
Top Gear
BBC Worldwide
Sep 1993
144,583
Total 911: The Porsche magazine
9 / Imagine
Jun 2005
n/a
Vauxhall Motorist, The
Vauxhall Motors
1933
closed
VM, The Vauxhall Magazine
Mediamark
?
478,018
What Car?
Haymarket
1973
138,832
Your Car
Gruner + Jahr
Autumn 1999
closed
Zero
Zero
Aug 2003
n/a

*Source: Audit Bureau of Circulations (ABC)
Thanks to: Gordon Cruickshank, Deputy Editor, Motor Sport
---