General weekly magazines
by Tony Quinn
General weekly magazines were fundamental to life in Britain right through the Victorian era until the 1970s, when most of them were killed off by supplements, colour TV taking away advertising and the recession. They were the first mass media with claimed sales exceeding a million copies a week by 1910 and were 50 years ahead of daily newspapers in carrying regular illustrations and almost a century in advance when it came to colour. From about 1880, they exploited the advent of fast typesetting and printing and woodpulp paper to become truly mass market products, with Tit-Bits blazing the way to sell 200,000 a week by 1883 and 600,000 before the century was done. It's worth noting also that the commercial success of Tit-Bits, Answers and Illustrated London News provided the foundation for the invention of a new type of journalism in tabloid newspapers.
Magazinisation of the press
This was the first wave of 'magazinisation' of the press; the second was the influence of Tit-Bits in the early 1950s in pioneeering the pin-up approach for tabloid papers; the third stage of the past 30 years is the presentation of newspapers as magazines with modular layouts, large photographs – and even the London Standard adopting the bright yellow backgrounds of Grazia.
Picture Post, Illustrated, Everybody's
and
John Bull
had a combined sale of about 4.5 million copies a week in 1950 (see Financial Times chart from 1959 below). The place of such weeklies as a national colour advertising medium was not challenged until the appearance of the regional ITV companies in 1955 and more specialised weeklies devoted to film, music and television. However, this onslaught followed by the advent of the free Sunday supplements from 1962, saw their fortunes slump. Two-thirds of the sales were lost in the 1950s.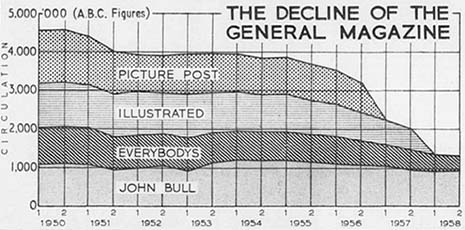 This page describes the biggest sellers. It takes in the the illustrated weeklies, humorous weeklies and the London-based listings magazines. Also included is Radio Times as a comparison because of its massive sales.
Other relevant pages on Magforum that list weekly magazines include:
---

First issue of Answers to Correspondents magazine, 2 June 1888. A sans-serif title type was very unusual at this time

'The Golden One': shorter title for 16 May 1891 issue and orange cover. A similar masthead style was used until about 1935

Wartime copy of Answers, 19 December 1942

On its last legs: Answers & TV Pic, 14 January 1956

Answers [closed]

A 23-year-old Alfred Harmsworth launched the weekly Answers to Correspondents on Every Subject under the Sun to appeal to a new population of young readers in 1888. It followed the Newnes Tit-bits model. Sales were depressed in the autumn, a problem ascribed to heavy fogs in London and Jack the Ripper. Harmsworth responded by adopting an orange cover, which led to the magazine calling itself 'The Golden One'; readers were called 'Answerites' and Max Pemberton, the roving reporter, was called 'Mr Answers'.

A year later, he shortened its title to Answers and launched a competition to win £1 a week for life. Entrants had to guess the value of the gold and silver in the Bank of England. Entries had to be signed by five witnesses – a brilliant example of social marketing. Nearly three-quarters of a million postcards came in. Circulation soared towards half a million, establishing the magazine. However, prize competitions based solely on guessing were declared illegal the following year. Harmsworth responded by donating 250 guineas to the Balaclava Heroes Fund supporting veterans of the Charge of the Light Brigade.

A letter from his brother Harold dated 1st October 1891 gives the sales of Answers as 221,000; Comic Cuts 345,000; and Chips 199,000 (Northcliffe by Pound & Harmsworth, p130). Circulation probably peaked in 1906 with sales of about 830,000.

Harmsworth was later to found the Daily Mail and own The Times, and become Lord Northcliffe.

In introducing the 1948 issue to mark the magazine's diamond jubilee, Viscount Camrose, chairman of the Amalgamated Press and editor-in-chief of the Daily Telegraph discusses the magazine's role in shaping the whole of Fleet Street. 'Answers was the keystone of his [23-year-old Alfred Harmsworth's] great career. If it had not been for this famous journal [Answwrs] there would have bheen no Daily Mail; the Evening News might have gone on languishing until death finally overtook it; and even The Times might have suffered the same fate. But owing to the success which Answers achieved, the whole of Fleet Street was changed in a remarkable way.'

He also bemoans the wartime paper rationing that was still in force, resulting in weeklies only coming out every fortnight and the issue being printed on thin newsprint, with only the cover calendered, though it did carry a colour illustration – and a Ministry of Food back page advert on how to cook cabbage!

However, past glories are no guarantee of survival, and Answers closed eight years later. It had appended & TV Pic to its title. The final issue, dated 18 February 1956, was not distributed because of a printers' strike. Yet, the name Answers to Correspondents, lives on in the Daily Mail as a regular column to this day.
Daily Mail profile
---

Interviews with big names, such as George Michael, are key to The Big Issue's success

The Big Issue [1991-]

11 November 1996. Issue 207. 80p. 48pp.
Editor: A. John Bird
John Bird set up The Big Issue in 1991 as a way for homeless people in London to earn money as street sellers. He turned it into a mainstream weekly and in 1993 won the BSME's Editors' Editor of the Year award. Its strapline was 'Coming up from the streets'. Exclusive interviews with big names, such as this one with George Michael, were key to his strategy. Its sales in London were 132,787 copies a week.
---

First issue cover of City Limits

City Limits [1981-92]

London Voice Ltd, 313 Upper Street, Islington, London N1. Distributed by New Statesman. Typically, 40p for 92pp. Ed: John Fordham
City Limits was launched in 1981 by many of the former staff of Time Out (referred to, in a Private-Eyeish way as Another London Magazine) who had left during a protracted dispute after owner Tony Elliot ended the system of equal pay for all staff.

During the dispute, Time Out staff had produced a protest news sheet called Not Time Out and this is referred to in the blue star on the front cover of the first City Limits, which says 'Incorporating "NOT...".'

The launch issue's editorial states: 'Six months, innumerable dismissals, several writs, threats, recriminations, sit-ins, lock-outs and undignified rumbles later, we have brought you City Limits - a paper that we think you'll agree was worth the fight.'

Cartoonist Steve Bell's Maggie's Farm switched from Time Out with the first outing in City Limits portraying Norman Tebbit ripping off an interviewer's head on Maggie's order 'Get him Psycho!'

Art director Carol Warren employed David King to establish an immediately recognisable cover style on a low budget. Christopher Wilson interviewed King for a 2003 issue of Eye and described his work so: 'His graphic style – an easily recognisable mix of explosive sans serif typography, solid planes of vivid colour and emphatic rules – reworked for the New Left in Britain the graphic language of the Russian Constructivists.' Jeremy Leslie's book Issues: New Magazine Design features a spread of City Limits covers. King collected Soviet imagery.

City Limits folded in the early 1990s.
---

Everybody's in the 1930s

Everybody's [closed]

Everybody's started as Competitors' Journal in 1913 and went through several variations of the two names to become Everybody's Weekly in 1928.

Everybody's was taken over by Amalgamated Press in 1950 and then merged with John Bull in 1959.
---

The Graphic from 30 July 1887

The Graphic [closed]

A competitor for Illustrated London News. The Graphic has been credited with printing the first halftone in 1884. A year later, a feature on 5 September 1885 can lay claim to being the world's first photographic picture story with four zoo pictures using blocks made by George Meisenbach, a German who had patented a halftone process in England in 1882. Taken over by The Sphere in July 1932.
Emap profile
---

The Humorist: Christmas 1939

Humorist [closed]

Printed by Newnes & Pearson Printing, Exmoor St, Ladbroke Grove W10 and published by George Newnes 8-11 Southampton St, Strand, London. 1922?-1940
The Humorist started as a large-format weekly magazine on newsprint based around cartoons with humorous stories and jokes. A typical issue was 24 pages for 2d. It was similar in format to London Opinion (it was controlled by the same publishing company) and was taken over by that title in 1940. In turn, London Opinion was taken over by Men Only in the mid-1950s.

Cartoonists it published included Bert Thomas, Harry Rountree, Alfred Leete ('Your country needs you'), Will Owen, W.L. Ridgewell, Wallis Mills, D.L. Chilchik, Treyer Evans (who did covers in the 1930s and later illustrated Enid Blyton book jackets) and Bertram Prance. Writers included Maurice Lane-Norcott, K.R.G. Browne, Richmal Crompton and J. Jefferson Farjeon. W. Heath Robinson did a series of full-page illustrations of 'some new ball games' with examples such as 'foot golf' and 'squash polo'.

The 23 August 1930 issue carried a cut-out coupon on the inside front cover for 'Free gifts for everybody'. Readers could collect points coupons from George Newnes weeklies (Humorist, Tit-Bits, Woman's Life, Lady's Companion, London Opinion) and monthlies (Happy Mag, Sunny Mag, The Grand Magazine) to exchange for 'useful free gifts of quality and distinction'.

George Newnes was one of the companies that was merged together in the 1960s to form IPC.

IPC profile
---

llustratedfrom November 1952

Illustrated [closed]

In 1939, Illustrated took over Passing Show and Weekly Illustrated. Large format title printed by Odhams in Watford and came out every Wednesday. Carried 'pictures, humour and stories'. Early covers by Gilbert Wilkinson, who moved across from Passing Show.
---

Ilustrated London News from May 18

Illustrated London News [closed]

The first issue of the Illustrated London News is reckoned to have sold 26,000 copies. However, its success was assured by its founder sending a copy to every clergyman when it ran illustrations of the installation of the Archbishop of Canterbury. This resulted in many new subscribers.

The magazine is credited with establishing the illustrated magazine model and quickly spawnd imitators in 1842-43, such as:

The Pictorial Times from Henry Vizetelly and Andrew Spottiswoode, the Queen's printer
The Illustrated Weekly Times and The London Journal, both from former ILN engraver George Stiff
Lloyd's Illustrated London Newspaper,

More competitors came out after stamp duty was abolished in 1855. However, it was not until 1869 and the foundation of The Graphic that a long-term challenger to the ILN was established.

Like all the pictorial weeklies, the ILN floundered in the 1950s, became a monthly, then an irregular publication marking special events.

Collection of Illustrated London News
Illustrated London News Limited
---

John Bull in 1916. At the start of the war, Bottomley revamped the cover image to dress the traditional John Bull figure in parts of the uniforms from the various armed forces

In 1946, John Bull was relaunched as a large format colour weekly on Odhams' presses in Watford

John Bull in 1959, the year before it was relaunched as Today

John Bull [closed]

John Bull was printed and published by Odhams Ltd, and was made famous by Horatio Bottomley. It was a penny weekly that was to become the UK's largest-selling magazine, boasting a circulation (very probably exaggerated) of 1,350,000 on its front cover in 1916. Although highly patriotic, it took an anti-establishment stance, championing grievances of troops in the first world war, even though this was illegal, under the opinionated Bottomley.

Its Bullets prize competitions, which were like having to think up cryptic crossword clues (though this was in the days before crosswords), were very popular.

In 1946, Odhams relaunched John Bull as a large format colour weekly. The editorial strategy changed also, switching to emphasise fiction from the likes of Agatha Christie, Nicholas Monsarrat, Alistair Maclean, J.B. Priestley and Neville Shute. The covers featured some of the best artists of the day, too. In the process, John Bull took over The Passing Show, Illustrated (1958) and Everybody's Weekly (1959). It survived in this format until February 1960, although its name changed for a time after each takeover to become John Bull Everybody's Weekly, John Bull and Illustrated and John Bull Illustrated.

In 1960, John Bull was relaunched as Today with a more topical emphasis. This version was itself later taken over by Weekend.

Odhams was one of the companies that was merged together in the 1960s to form IPC. IPC profile
---

The Leader in 1940 described itself as an 'all-family news magazine'

Leader [closed]

The Leader was a Pearson's magazine that became part of Odhams and then Hulton Press / Associated Periodicals in the mid-1940s. It came out on a Saturday as an 'all-family news magazine'.
---

London Life with cover of Marlene Dietrich in the film Blonde Venus (20 Jan 1934)

London Life [1920s-60]

New Picture Press, London. 1922-1960 . Weekly, then fortnightly and monthly
London Life was a mixture of bathing suit pin-ups sprinkled among copious letters pages full of fetishistic correspondence illustrated with readers' drawings and photographs about corsets, stockings, high heels and artificial limbs. The covers often took black and white photographs and added spot colour or duotone and occasional use of silver ink. It also changed its masthead every issue. A feature was often made of the middle four pages, which were printed on a coated, thicker paper. The result was a gloriously produced weekly and classic of art deco design and high-quality printing.

Before the second world war, London Life was published at a larger than A4 size (9.5 x 12.5 inches), but paper rationing saw it cut down to a smaller format in 1941 (7.5 x 9.75). In October that year, the cover carried a warning that paper controls meant it had to reduce further to a 'magazine size', in this case pocket size (4.75 x 7.25), from the next issue and also go fortnightly. Furthermore, its Fleet Street offices were bombed and it moved out to Reading, though later returning to a London address in the Strand. After the war, it adopted a slightly larger pocket format (5.25 x 7.25) with spot colour and later four-colour outer covers; however, it never regained the glory of its pre-war days.

London Life was printed by Keliher, Hudson & Kearns, Hatfields, London SE1.

By May 1960, London Life ran to 52 pages for 1/6 and featured a supplement about the occult.

The title London Life was also used by Tatler in the 1960s (London Life / Tatler).

Men's magazines
---

London Life – first issue under editor Mark Boxer

Future Blockheads lead singer Ian Dury drew this London Life cover image of Tony Bennett for a profile by Benny Green. The words picked out in stripes against a flowery wallpaper background read: Tony Bennett / Royal / Variety / Mon 8 Nov / Palladium / 8 PM

London Life (1960s Tatler)

9 October 1965-1967. Illustrated Newspapers

This weekly entertainment guide incorporated the Tatler title but only lasted a couple of years. The editor was Mark Boxer, who had spent three years as editor establishing the Sunday Times Magazine, before that was art director of Queen, and later became editor of a rejuvenated Tatler in 1983 (the British Society of Magazine Editors has a special achievement award named after Boxer).

London Life aimed to banish the crusty society world of Tatler and herald Swinging Sixties London. It typically ran to 56 or 60 pages for 2/6, with heavier coated pages used for the feature articles in a central section. It was published every Thursday (covering the Sat-Fri dates on the cover) from Elm House, 10-16 Elm St, London WC1. Its stated aim was as a 'comprehensive guide to the entertainment scene: films, theatre, retsurants, night life, music, sport'.

The magazine was initially printed by Sun Printers in Watford, and East Midland Litho, Peterborough and bound by Sun Printers, Watford and London. By June 1966, the printing had moved into central London – to Gale & Polden, 28 Craven St, WC2.

In that year, Boxer left. The 10 September issue has a list of credits: Ian Howard was editor; picture executive was Jeremy Banks; the art editor was Tony Page; Patrick Brangwyn was production editor.

For the 6-12 Nov (1965) London Life cover on the left, Ian Dury – then a student at the Royal College of Art – drew Tony Bennett for a profile by Benny Green. Words in the background are picked out in stripes against a wallpaper background. The concept was carried through to a spread showing performers at the Royal Variety Performance. The colour centre spread was devoted to the 'London Life pin-up': Barbara Windsor 'in a dress of Plantagenet splendour, designed by Oliver Messel, for Lionel Bart's Twang!! The musical is based, freely and with baroque improvisations, on the Robin Hood legend.' The photograph was by Terence Donovan.
Tatler profile
---
London Opinion ran its famous Kitchener cover in 1914

London Opinion in 1924, with a typical issue of the large format, newsprint magazine

London Opinion introduced spot colour in the late 1920s

London Opinion switched its format to a pocket size and went monthly in November 1939

London Opinion [closed]

London Opinion Ltd / Pearson (Newnes), 26 December 1903-27 June 1939; July 1939-April 1954. Weekly till 1939; then monthly
London Opinion started as a men's weekly. The first issue was 'conducted' by A. Moreton Mandeville and cost 1d for eight pages. There was no advertising. Quite how it survived is difficult to imagine from the first issue – pure text (much of it garbled) in three columns a page unrelieved by any illustration and just 3 or 4 sideheads. It was printed on newsprint. The content was a first person ramble around Rome, Thibet [sic], Yorkshire, Should women play golf?, errors in foreigners speaking English, Dickens and Thackeray and Russia. The final page was half-filled with advice on renewing oilcloth and cooking recipes! It was printed by Odhams Ltd, 19-24 Floral St, Covent Garden, London WC2 (near the Lamb & Flag pub!).

However, survive it did, bringing in cartoons and much more varied content. It used large black-and-white cartoons on its cover before adopting colour illustrations in the late 1920s. By 1914 it was also insuring readers for up to £1,000 (a popular tactic with magazines and newspapers since Victorian days). The printer was Love & Malcolmson Ltd, Dove St, High Holborn. The publisher was London Opinion Ltd, Watergate House, York Buildings, the Adelphi. It still costs 1d. The summer annual cost 1/-

A September 1914 cover by Alfred Leete inspired the famous 'Your country needs you' poster of Lord Kitchener.

The magazine used an A4-ish format (7¼" x 9½") until it was relaunched in 1939 in a monthly pocket digest format (as Men Only had been since 1935). This was described as a move to a more popular size, but Newnes might have had paper rationing in mind with the onset of war. London Opinion took over the weekly Humorist in 1940 and carried that title as part of its masthead until 1950. It used a formula of stories, cartoon and photographs – including a couple of artistic nudes.

The November 1945 issue of London Opinion published a photograph of a woman wearing a headscarf on which was printed the cover of Men Only from October 1942 (showing a cartoon of a Russian sailor). The picture caption read: 'Just a "babushka" turns Pat into Patrushka.' (One meaning of babushka being a headscarf.)

In 1950, the Economist criticised the closure of the Strand while London Opinion and Men Only continued (although published under the C. Arthur Pearson imprint, the company had been controlled by George Newnes since 1914).

Among the famous names who cut their teeth in the magazine were Keith Waterhouse, who had his first published article in London Opinion in 1954 at the age of 15, and Norman Thelwell, the cartoonist famed for his strips about a girl and her dimwitted pony, who ran a series – 'Sweetie-Pies of Other Days' starting in March 1949. Dennis Gifford has described London Opinion at this time as 'probably the funniest magazine of its era'.

The last issue was April 1954, when London Opinion was taken over by Men Only.

George Newnes was one of the companies that was merged together in the 1960s to form IPC.

London Opinionand the best magazine cover ever
Men Only profile
IPC profile
---

London with a cover portrait of US model Connie Kreski in an Annacat wedding dress (16 March 1968). Kreski was a member of Sharon Tate's social circle and a Playboy centrefold and cover model

Londoner

Londoner was published by Trixways from Salisbury Square. It cost 2/6 for 48 pages under editor David Castell. The issue seen here carried a full-page Terry Gilliam cartoon and the centre spread was of Rita Tushingham as a hippy in the film 'The Guru' with Michael York.

Stuart Montgomery and Steve Abrahams were interviewed by Robin Alp about the settting up of Britain's first 'Antiuniversity'.

Eight of the pages were devoted to events listings on thick green paper.

There was a Playboy Club News advert on the inside back cover.
---

Look of London with a cover portrait by John Cowan of Glenda Jackson who was playing the title role in David Pinner's 'Fanghorn' (25 November 1967)

Look of London

Look of London was a culture and fashion weekly published by Trixways from Salisbury Square. It cost 2/6 for 36 pages under editor David Castell. Ross Benson was diary editor.
---

The Million magazine first issue cover of the colour penny weekly in March 1892 showing actor Henry Irving

1894 Million cover showing coloured photograph of a lifeboat coxswain

In 1894, The Million introduced an advertising wrapper, which hid the colour covers

The Million

George Newnes, 1892-95, 1d, 8 pages
The Million was the first attempt to launch a colour penny weekly magazine. The first issue came out dated 26 March 1892, seemingly under the personal editorship of George Newnes himself. It was printed letterpress with four pages of colour: front; page 4 – three small images printed in blue; page 5: 3/4-page engraving of the Czar's winter palace in St Petersburg; page 8: Pears advert (back cover).
Within a year, the page size was reduced by half and the reduction in the number and quality of colour engravings suggests it was cutting costs.
---

The Passing Show first issue of a new series on 26 January 1924

(The) Passing Show [closed]

The Passing Show was an Odhams title that was merged into Illustrated in 1939. It featured cartoons and short stories with spot colour cartoon covers originally (see left) and later full-cover illustrations. It cost 2d for the whole of its time

As with Weekly Illustrated and other Odhams publications,its adverts claimed to offer 'All round value and a square guarantee for a straight line.'

A Wikipedia article about Agatha Christie's The Hound of Death gives a hint as to its success in the 1930s:

The book was not available to buy in the shops but through coupons collected from The Passing Show ... The coupons appeared in issues 81 to 83 published from October 7 to October 21, 1933 as part of a promotional relaunch of the magazine. In exchange for the coupons and seven shillings (7/-) , customers could receive six books ... The promotion appears to have been successful insofar as The Hound of Death is by far the easiest pre-war UK Christie book to obtain as a first edition in its dustwrapper.

IPC profile
---

Pearson's Weekly royal special on 1935 may 4

Pearson's Weekly [closed]

C. Arthur Pearson, 1890-1938
Arthur Pearson (a former employee of George Newnes on Tit-bits who got the job by winning a competition in the magazine) launched Pearson's Weekly in 1890.

However, Pearson went blind through glaucoma and, in 1914, Newnes took over Pearson's titles. Pearson became president of the National Institution for the Blind but drowned in his bath after a fall in 1921. Pearson's Weekly declined in the 1930s and despite relaunches as New Pearson's Weekly and a merger with another Newnes title, To-Day, in 1938 it was merged into Tit-Bits.

The Pearson and Newnes titles became part of IPC in the 1960s.
IPC profile
---

Photo Bits issue 499 on 18 January 1908. Cover cartoon by 'The Snark'


Photo Bits [closed]

Printed and published for the Phoenix Press Ltd, Fleet Street, London EC. 32pp. 1d. Weekly on Fridays. 9 July 1898-9 Dec 1916. Men's humour
Cartoons, humorous stories, strips, jokes, glamour photographs and anecdotes made up the contents of Photo Bits. The size was 28cm x 21cm.

The back two pages were taken up by classified adverts – mainly for 'rubber goods', nose improvements, moustache forcers (Brazilian and otherwise), tattooing, books for the married, amusing postcards and artistic photographs.

Folded into Bits of Humour
---

Pictorial Weekly 2 December 1933; 2d every Friday

Pictorial Weekly [closed]

Amalgamated Press, Fleetway Housee, Farringdon Street. Every Friday. 44+4. 2d

'Trenchard's war on crime' was the main cover line for the issue shown here (issue 5, vol 1, new series) with a speeding police motorcyclist shown in a highly touched-up photograph. The article by C. Patrick Thompson included a photograph of a motorcyclist with a wireless phone. A montage is used on the centre spread. These techniques are usually associated with the work of Stefan Lorant on Weekly Illustrated and Picture Post, but this issue predates both. The magazine also ran Nuggets, a phrase-making, money-making competition, similar in concept to John Bull's Bullets.

Amalgamated Press, which published 73 magazines by 1951, with a total circulation of more than 14 million, became part of IPC in the 1960s.
---

Picture Post, September 1954, with Joan Collins, one of the biggest pin-up stars of the day, on the cover

Picture Post [1938-57]

Picture Post was launched by Edward Hulton under the charge of Lilliput editor Stefan Lorant. The print run of 750,000 copies was reputed to have sold out before noon on the day of launch. When Lorant fled Britain for the US in 1940, Tom Hopkinson took over Picture Post.

In 1950, publisher Edward Hulton sacked Picture Post editor Tom Hopkinson. The circulation fell below a million, to 935,829. In 1952, Hulton Press admitted to 'heavy losses' on the title and cut the cover price to 4d (from 6d) to match Illustrated. Sales rise to just over a million. However, Picture Post closed in 1957.
---

Punch in May 1956. The cover had stayed essentially the same for a century, but one-off colour cartoons began to be used from this year

Punch [closed]

1841-; 1996-2002

Weekly humorous magazine famous for its cartoons. Founded on 17 July 1841 by Henry Mayhew and engraver Ebenezer Landells, along with editor Mark Lemon. Sales were at their highest in the 1940s at 175,000. The magazine closed in 1992, but was relaunched in 1996 by Egyptian businessman and Harrods owner Mohamed Al-Fayed. This also failed in 1996.

Although the magazine has closed, there is still an archive of its cartoons.
---

Radio Times 70th birthday issue in 1993

Radio Times

Weekly TV and radio listings.
---

Sphereweekly, 14 August 1915

(The) Sphere [closed]

The Sphere published to a similar formula to Tatler and Bystander. Took over The Graphic in July 1932.
---

Time Out 12 August 1968. The first issue was in the form of a fold-out sheet

Time Out

Time Out, a London weekly listings magazine, was launched in August 1968 by Tony Elliott. He was then studying French at Keele University, and the magazine was nearly called Where It's At. It started as a folded sheet and the first issue sold 3,500-5,000 copies (estimates have varied). A second issue followed three weeks later. It became an A5 fortnightly before going weekly as an A4 magazine in 1970. In 1981, publication was suspended for four months because of a strike over Elliott's decision to end the magazine's policy of the same pay for all staff (a period he has described as 'guerrilla warfare'). Many left to start a protest news sheet called Not Time Out before going to work on a new competitor City Limits, which received funding from the Greater London Council but folded after about a decade. Since then, Time Out has expanded internationally while facing competition in the UK from bigger listings sections in newspapers such as the Guardian and websites such as the Evening Standard's This is London.

The Time Out masthead and many iconic covers (1970-1983) were designed by Pearce Marchbank. In March 2002, the masthead on the London edition, which had spanned the width of the cover, was reduced in width to match the international editions.
Time Out Group profile
---

Tit-Bits from December 3 1955 in a tabloid newspaper format when it was at a peak, selling about 1.2m copies a week

Tit-Bits from December 16 1961. The style of cover had hardly changed, though the paper quality was better and printing had shifted to Sun Printers in Watford
Titbits – note the subtle name change – from 13 January 1973. By this stage it had adopted colour covers and looked more like a magazine than a newspaper
Titbits from May 1984. This issue carried an advert for Parade – with raunchy nudes, local girls and readers' wives

Tit-Bits / Titbits [closed]

George Newnes/IPC. October 1881-1984
Tit-Bits was launched by George Newnes and established a model of rewriting material from many sources, using cheap newsprint and selling in volume. It was quite open about this – the masthead proclaimed 'From all the most interesting books, periodicals and contributors in the world.' The strategy can be seen today in The Week from Dennis.

The magazine wrote about what was likely to interest its readers in a pithy way – so establishing the principles of tabloid journalism (the word originally related to the style of writing rather than the size of the paper).

Contributors included Alfred Harmsworth (later Lord Northcliffe), who launched Answers, and Winston Churchill. Among its many innovations, Tit-Bits ran a contest in the first world war for a song that could be sung by soldiers at the front: Ivor Novello won it with 'Keep the Home Fires Burning.' It was the first popular paper to sell 1m copies a week.

Tit-Bits spawned many imitators and popularised the use of 'Bits' in titles, such as Photo Bits. It specialised in 'human interest' snippets with short stories and full-length serials by authors such as Rider Haggard. Text dominated its pages and advertising the covers from the 1880s until after the second world war.

Tit-Bits was the first magazine to use regular pin-ups on its covers and these dominated from 1950 – its cover designs would be familiar to tabloid newspaper readers 30 years later. Its circulation peaked in 1955 at 1,150,000.*

In the 1950s, George Newnes was at Tower House, Southampton St, Strand, London WC2. Tit-Bits was printed by W. Speaight, Exmoor St, W10. It came out on Mondays. In 1959, it was selling about 904,000 copies.
By 1961, it was printed by Sun Printers, Watford & London.
Newnes became part of IPC Magazines at Kings Reach Tower, London. It took over rival Reveille. In the 1980s, it was published on Thursdays.

Titbits was taken over by Associated Newspapers' Weekend on 18 July 1984 with sales of 170,000 copies. The last editor was Paul Hopkins. Its main competitors were not other magazines but popular daily papers such as the Sun. Ron Chilton, chief executive of IPC Magazines, said the popular tabloids were 'just daily Titbits with a bit of news added on to the front'.

In reporting the closure, the Financial Times* described Titbits as 'the 103-year-old progenitor of Britain's popular press'. It went on:

'The ploys used by newspapers today to boost circulation – even Top People now have bingo with their current affairs – were nearly all pioneered by Titbits. Titbits was running competitions, with what were then fabulous prizes, decades ago; Titbits was first to put a glamour girl, albeit with clothes, on the front page; Titbits serialised H. Rider Haggard's She; and it was Titbits that first thought of launching a national treasure hunt.

The FT also reported: 'Chilton made it clear that Titbits would never again come out as a separate publication. Apart from anything else, IPC would not wish the old logo to fall in to the hands of pornographers.' However, Titbits was later sold to Sport Newspapers, which then sold it on. The name lives on as a glossy adult monthly Titbits International.

*Cameron, S., Fishlock, D. and Cottrell, R. (1984) 'The inevitable death of Titbits,' Financial Times,
30 June, p17

IPC profile
Men's magazines
---

Today weekly magazine from 24 February 1962

Today [closed]

Formed when John Bull was relaunched as 'The new John Bull, incorporating Everybody's Weekly'. It came out every Wednesday.

The first issue included a competition to win a car and a free insurance offer for registered readers – a promotional tool that dated back a century. Advertisers included Caterpillar, the US maker of earth-moving vehicles –'Helping to build a better Britain' – and Cadbury's Milk Tray.

Editorial featues included fiction such as 'Trustee from the Toolroom' by Neville Shute and 'The Happy return' by John Seymour. Columnists included Gilbert Harding and Sylvia Lamond on the women's page. The cover – with a bizarre image – was based on skiing and linked to a colour centre-spread article.

IPC sold Today and it was merged into Weekend in 1964.
---

Top Spot 10 October 1959 magazine

Top Spot [closed]

Fleetway weekly on newsprint launched in 1959, slightly larger than A4. Aimed at teenage boys with a mixture of fiction, sport, pin-ups and story strips using illustration and photographs.

The issue for 10 October 1959 shown here ran a story 'War Party' by James Warner Bellah, a screen writer for Hollywood director John Ford (The Man Who Shot Liberty Valance). The cover illustrated this and a cartoon strip telling the story of Brittish cruiserweight boxer Freddy Mills.

Fleetway was part of Amalgamated Press, which in turn became part of IPC.

IPC profile
---

The Week cover

(The) Week

In May 1995, The Week was launched by Jon Connell, a former deputy editor of the Sunday Telegraph, as a digest of the world's press. Its motto is: 'All you need to know about everything that matters.'

A year later, Maxim publisher Felix Dennis took a 51% stake in the title. It was selling about 4,000 copies at the time. By 2000, it was selling 52,367. In 2001, Dennis took on former Times and Sunday Times editor Harold Evans as a consulting editor and launched the Week in the US with a $17m budget, as a rival to Newsweek and Time. By the end of 2006, the Week was selling 134,803 copies in the UK and 358,336 in the US.

Its motto now is 'The best of the British and foreign media.'
---

Weekend cover from 4 September 1974

Weekend[closed]

Northcliffe House, London EC4. – 1989? Weekly collection of news, stories and pin-ups. In the 1960s, published as a tabloid newspaper with a colour cover. Ran a 'Pop Spot' feature each issue with the lyrics for a chart single. Later adopted a magazine format. Took over Today (John Bull) in 1965 and Titbits from IPC in 1984.
---

Weekly Illustrated cover from 7 March 1936. The cover is a tribute to the men who built the recently launched Queen Mary. Note the montage of at least 4 images

Weekly Illustrated [closed]

Odhams Press, Long Acre, London. 1934-39
Large format magazine printed in gravure that brought the photojournalistic approach of Germany to the UK under the editorship of Stefan Lorant. In 1935, the magazine's advertisement director, Philip Emanuel, set out its aim as: 'All round value and a square guarantee for a straight line.'This was illustrated withh a graphic of a circle, square and line. Weekly Illustrated shortened its name to Illustrated and merged with Passing Show, though by this time Lorant had left to launch the pocket format monthly Lilliput. The last issue as Weekly Illustrated was 25 February 1939.