Music magazines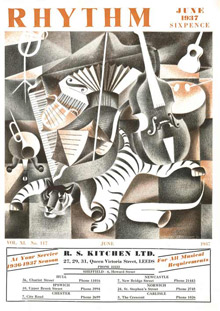 Everyone has a view on music, so it is no surprise that music magazines have been one of the most vibrant sectors in magazine publishing. Here, you will find potted histories of 74 British music magazines. Just as changing trends and new bands can make or break a title, so music magazine sales have wilted in the face of online services such as Spotify and iTunes, and as advertising revenues and CDs sales have collapsed:
Melody Maker's jazz coverage established its position as the leading music weekly for half a century. Its 1928 'honours list' is regarded as the UK's first music chart;
On 14 November 1952, New Musical Express published the first singles chart in the UK; Record Mirror also started a singles chart and was the first to run an album chart, from 28 July 1956;
Beatlemania boosted the music weeklies and sparked dedicated titles, both in the UK and US;
Julie Burchill Tony Parsons famously answered an NME advert for 'hip, young gunslingers' and their writing about punk helped catapult the title ahead of rivals Melody Maker and Sounds
in 1990, Smash Hits publisher Rita Lewis told Marketing Week (23 Feb, p22) that a fall in sales was down to a fickle market: 'We had an influx of new and very young readers last year ... They were mad about Kylie Minogue, Jason Donovan and Bros and ran around buying everything that had them in. When the crest of the wave is over, you lose readers.'
the 1990s club scene spawned Mixmag, Ministry and Muzik; however when the scene collapsed in 2003, it took down two of these titles too;
The BBC launched Top of the Pops magazine as a brand extension for its long-running TV series; the series has ended but the magazine continues, with sales of 45,561 a week in 2020;
Classic FM was one of the first national commercial radio stations in 1992. It helped expand the marker for classical and launched its own magazine;
Emap (now Bauer) launched radio stations off the back of its music titles such as Kerrang!
the tabloid weeklies Melody Maker, Record Mirror, Sounds and NME were nicknamed the 'inkies' (because the ink came off) but fashion turned against the tabloid format and their readership ebbed away to glossy, niche magazines. NME survived longest;
demographics plays a role too. The postwar baby boom supported the massive growth in rock and pop of the 1950s and 1960s; yet in 1990, the number of 17 to 24-year-olds was forecast to fall from 7 million to 6 million by 1995 (and then along came digital media and the web to finish off the likes of Smash Hits!);
as CD sales have fallen with the advent of Kazaa, MP3 players, the iPod and mobile phones, magazines have lost advertising revenue, as well as sales;
NME was credited with sparking the 'New Rave' trend in the summer of 2006.
In 2015, Time Inc UK announced NME would turn into a freesheet. It had been selling just 16,000 copies a week. It went online-only in 2018.
Table 1 gives the sales figures for the main music magazines in 2008. Table 2 lists all the titles on this page with basic details such as publisher and launch (closing) date.
Music magazines in recent years can be categorised as:
teen glossies, such as Top of the Pops and Smash Hits;
the 'inkies' such as Melody Maker and NME that thrived on critical rock journalism in the 1970s, so named because the ink came off the tabloid newsprint pages so easily;
style bibles, a genre created by The Face, reflecting the role of music and fashion in pop culture;
critical monthly glossies such as Q, Mojo, Uncut and Word;
genre-specific: Kerrang!, Mixmag, Songlines and The Wire;
fanzines and underground titles such as Barbed Wire and Sniffin Glue. (Fanzines by Teal Triggs was published by Thames & Hudson in 2010.)
---

BBC Music in 1994 with Dame Kiri Te Kanawa

August 2008 cover about the BBC Proms

BBC Music

Immediate Media / Bristol Magazines (BBC). Monthly. September 1992-
In the early 2000s, BBC Music claimed to be world's best-selling classical music magazine, having overtaken Gramophone. Each issue featured a cover-mounted CD of classical tracks.

In March 1993, a US edition was launched and then a German language edition in autumn 1994. To celebrate its 5th anniversary in 1997, BBC Music used a silver cover and mounted a Yehudi Menuhin CD and postcards on its cover.
BBC Magazines profile
---

Bang: rock title from Future that went out with a whimper

Bang [closed]

Future, London. Rock. April 2003- January 2004.
Bang launched with a £1 special price (against a usual cover price of £3.30) and 142 pages. The editors were Crispin Parry and Danny Ford. The tagline for the issue was: 'It's only rock 'n' roll' and US bands featured heavily (Future has a US arm).

Unusually, the Future logo was not carried on the cover. Bang aimed at a 16-24-year-old male rock audience. The launch run was 150,000, which was expected to settle down at 50,000. There was no supporting website – again, unusual for Future.

The launch marked a departure from Future's usual formula and markets (though the company did have two magazines for guitarists). Bang was a monthly music title in small-A4 format that went straight up against established titles from Emap and IPC, as well as Development Hell's recent launch Word . It closed in January 2004
Future profile
---

Barbed Wire: the Vapors on this cover in 1980 (30p, 20 pages)

Barbed Wire [closed]

Fred Pipes. 1978-1980, punk fanzine
Punk-inspired zine published in Guildford (40p). Fanzines such as this followed in the footsteps of Private Eye, in using new technology. In this case, it was golfball typewriters and high street copy shops. The copies were stapled by hand and sold in record shops, schools and colleges in Guildford and Surrey – and as far away as Rough Trade in London.
The Fed Pipes Art Blog
---
Big!

Emap Metro. Fortnightly / Monthly. 14 Mar 1990-
Music-based youth title launched with a print run of 150,000 copies – which was increased in July after the company said the first issue had sold out.

The launch was designed to strengthen the group's share of the teenage market. It came out as a monthly; then going fortnightly – to alternate with pop title Smash Hits – on April 11. It focused on TV, music and film celebrities and cost 60p. Big sought out the same age group as Smash Hits, with an average age of about 15. It was promoted in Smash Hits and Just Seventeen.

The managing editor was Bev Hillier, a former Just Seventeen editor; editor David Bostock had been art editor of the same title.

Emap was aiming for an average 120,000 sales in the first year. In the first half of 1991, sales were at 257,584, while the company's Smash Hits fell 24.4 per cent year-on-year to 420,239. Dawn Bebe was appointed editor in 1993; she went on to launch Bliss in 1995 and edit New Woman in 1996 (where she instigated a Weird Willy spot).

Big! was relaunched in 1994 with a heavier, glossy cover to reflect a more sophisticated readership. It was relaunched again in December 1999 with the Back Street Boys on the cover and the tag line 'Closer to the stars'.
---
Blender CD-Rom [closed]

Dennis, 1995?-
Dennis launched this experimental CD-Rom in the mid-1990s (long before the title was used for its US music magazine). It only lasted a few issues.
Dennis profile
---
Blender (US)

Dennis Inc. Monthly. May 2003-
'The ultimate music magazine' was how Dennis described Blender, which drew on the massive reader base for men's magazine Maxim in the US with its 'Maxim presents...' tag line. The cover featured The White Stripes as 'The greatest rock and roll band in the world', TATU, and Eminem's harem. Advertising for menthol cigarettes looked odd, but it was a big push with a four-page tip-in gatefold advert. The launch issue promoted a big subscription drive: $7.97 for 10 issues: 80% off. Andy Pemberton was editor of the 160-page launch issue.
Dennis profile
---
Bullit [closed]

New Standard, London. December 2003- £3.50; 132pp. Ed: Steve Janes
'New adventures in music and vision' said the cover line, with the mag sparked off by the way technology was shaping the music and film industries
---

Clash magazine adopted a square format

Clash

Vibe Media, Dundee. Ten times a year. March 2004-
Clash was 'about music, fashion and the things that clash in life'. Unusual format: 250mm square. Franz Ferdinand cover for the first issue (£2.50; 100pp. Ed: Simon Harper). This included an eight-page article on history of Vibe magazine, out of which Clash grew. The magazine has expanded to cover fashion, film and entertainment as well as underground and mainstream genres. It also runs live events.
Clashmusic.com
---

Classic FM magazine cover for September 2008 featuring soprano Natasha Marsh and the free CD

Classic FM

Contract magazine for Classic FM by John Brown. March 1995-
The design consultant for the launch was David Hillman of Pentagram (who had worked on Nova in the 1960s and redesigned the Guardian in the early 1980s). It is a spin-off from the radio station. The first issue came with a booklet of CD vouchers worth £30 (£2.20; 100 pages. Editor: Lisa Barnard).

By 2008, although its monthly ABC figure – at 41,412 – was lower than BBC Music, fewer than 3,000 copies were sold overseas, making it the biggest-selling classical title in the UK.
John Brown profile
---
Classic Rock

Dennis / Future / Team Rock. Monthly. 1999-
Dennis launched Classic Rock in 1999 and sold it in the following January along with three other titles (including Metal Hammer) to Future. In turn, Future sold Classic Rock and Metal Hammer to Team Rock in April 2013 for £10.2 million.

In September 2002, Classic Rock sealed a deal with Sanctuary Records to produce four CDs entitled 'Rock of Ages'. Each CD was dedicated to a decade between 1962 and 2002.

By December 2003, Classic Rock was selling 43,545 copies a month.
Future profile
Dennis profile
---

Cream at the start of its second year in June 1972

Mick Jagger on the cover of the October 1973 issue of Cream, just before it closed

Cream [closed]

Bob Houston. Rock. Monthly; 1971-73
Melody Maker journalist Bob Houston left IPC's music weekly to start his own title and called it Cream. Although regarded as a success in terms of its journalism, it failed to attract the level of advertising needed to sustain it.

There was also a shortlived 1988 men's magazine called Cream
---
DeeJay [closed]

DeeJay, 1972. DJs
BBC Radio 1 DJ Tony Blackburn was the cover subject for the first issue of DeeJay.
---
Digital DJ

Future, London. June 2004 (one-off). Practical/Playing
One-off title about technology for DJs. It aimed at 16 to 20-year-olds learning the trade or vinyl DJs starting to work with CDs. Digital DJ ran to 100 pages and was co-edited by Ian Harris and Oz Owen.
Future profile

---
Disc [closed]

London. 1958-75. Pop tabloid weekly
Disc was one of the weekly music tabloid papers that were known as 'the inkies' (because the ink came off on your hands), the others being Melody Maker, NME, Sounds and Record Mirror. Pop news was its focus, and it set up its own record chart based on surveys of music shops. It introduced a colour cover in 1966. In 1975, it was taken over by Record Mirror.
---

Encore first issue cover

Encore [closed]

July 1995. Haymarket; £2.25; 172 pages. Editor: Paul Colbert
Music magazine 'officially approved by Virgin'. The competition in the first issue was to win Mick Jagger's Golf with a boot stuffed with CDs
Haymarket profile
---

The Face: style bible of the 1980s. This 1986 cover is of Isabella Rossellini, who had appeared in David Lynch's film Blue Velvet

(The) Face [closed]

Wagadon/ Emap. 1980 – May 2004
Nick Logan launched The Face in 1980 using his own money after Emap turned the idea down. Iconic design by Neville Brody. Strong music base; developed to embody cutting-edge youth culture in the 1980s. Emap bought the title in 1999, along with Arena, from Nick Logan's company Wagadon. The closure – along with that of J17 - was blamed on the changing marketplace and falling sales.
Background to The Face launch
Emap profile
---

Flipside had a tabloid cover that disguised an A4 stapled format

Flipside [closed]

Vedapoint Ltd. 6 March 1999. 90p. Tabloid fortnightly
Flipside had a tabloid cover that disguised an A4 stapled format,a technique also used by early issues of Rolling Stone. The first issue cost 90p, going up to £1 for the next issue. 'We are not your enemy' was its motto.
---
(The) Fly [closed]

Channelfly. 10 times a year. Rock. 2001-
Channelfly.com, an online promoter of bands, launched The Fly to support its Barfly Club in Camden. It broadened distribution of the fanzine-style rock title to about 103,000 free copies 10 times a year, but the title closed in 2013. A statement on the website said: 'After nearly 15 years of pioneering new music journalism, the owners of The Fly are officially closing the magazine as a result of current market conditions surrounding publishing. We offer gratitude and wish well all the staff and contributors that have allowed us to deliver the UK's longest serving monthly free sheet. To the multitude of artists and musicians that have graced our covers, the advertisers and sponsors who have supported us and our loyal readers, we salute you. Ownership of the digital and online brands will now pass to the magazine's longest-serving member of staff, editor JJ Dunning. We wish him luck in taking the brand forward. For press enquiries please email: press@mamaco.com. If you would like to get in touch with The Fly please contact the Editor, JJ Dunning johnjamesdunning@gmail.com'
---
Future Music

Future, London. Monthly. Practical/Playing/Music technology. November 1992-
Future moved into the music technology market with Future Music, aiming for a circulation of 40,000 in 1992. The perfect-bound title aimed to run 148-page issues with 50 pages of advertising. Greg Ingham, publishing director of Future's computer leisure division, told Media Week: 'It's a fusion of computers and rock 'n' roll. The readers will range from students, doodling on computers at home, to professional musicians sampling. This is a market that has massive interest but is not well-served. We will be bringing our expertise into the music market from the computer market.' ('Future Publishing to launch monthly future music title,' Media Week, 3 July 1992, p9).

Other titles published at the time were SOS Publications' Sound on Sound and Music Technology from Music Maker Publications.

In September 1996, Future built on the launch by buying Music Maker Publications, which came with Guitarist, Guitar Techniques, The Mix, Rhythm, Bassist, Hip Hop Connection and Keyboard Review magazines as well as the London Music Fair, the National Guitar Show and the Musician Net website. In early 2000, it bought Metal Hammer and Classic Rock from Dennis.
Future profile
---

Gramophone in August 1971 with Welsh soprano Dame Margaret Price on the cover

September 2008 cover with German tenor Jonas Kaufmann

(The) Gramophone

Gramophone Publications / Haymarket, London. Monthly. April 1923-
The influential classical music magazine was co-founded in 1923 by the writer Compton McKenzie (author of Whisky Galore and Monarch of the Glen and later Sir Compton) and his brother-in-law Christopher Stone. It was a family-run business until bought by Haymarket in June 1999.

Gramophone is not a title to hide its light under a bushel. The website proclaims: 'From its peerless – and fearless – reviews to its penetrating interviews with the world's leading classical music artists Gramophone magazine is simply unmatched.'

However, sales peaked at almost 70,000 in about 1992 and stood at 36,817 in early 2008. About half of these are overseas. It is being given a run for its money by BBC Music, which sells 47,104 a month, again almost half overseas.
Haymarket profile
---
Guitar and Bass cover from August 2008

Guitar & Bass

IPC Media, London.13/year. Practical/Playing. 1991-
For serious guitarists and bass enthusiasts, aged 30-40. Carries instrument tests, playing techniques, a bass section and features on guitar heroes. Publisher's data suggests 60% of readers have played for more than 10 years.
IPC profile
---
Guitar Techniques

Future, Bath. 13/year. Practical/Playing.1994-
Tuition magazine that trades on taking 'the UK's foremost guitar teachers and players and transferring their finesse and passion for music into a magazine'.
Future profile

---
Guitarist

Future, Bath. 13/year. Practical/Playing.1984-
For serious guitar players. Typical issue size is 220 pages covering gear reviews demonstrations on the cover-mounted CD. Aims to be 'The guitar player's bible'. Three-quarters of readers play in a band, says the publisher.
Future profile

---
Hip Hop Connection [closed]

Music Maker Publications/Future, London. Monthly. -August 2001
Hip Hop Connection closed in 2001, five year after Future bought the title from Music Maker Publications. It was a bad year for music titles with Emap's Select and IPC's Melody Maker also going under.
Future profile
---
The Hit launch issue with Style Council's Paul Weller on the cover
The Hit in October 1985

(The) Hit [closed]

IPC/Holborn Publishing Group, September 1985
Editor Phil McNeill set out to produce a music and lifestyle weekly for 15-19-year-old men that was 'Harder than the rest', such as The Face. First issue included a free four-track vinyl EP with tracks by: Style Council, Jesus and Mary Chain, Redskins and Simply Red. Sales of 180,000 were predicted, but the first issue reached just 100,000, a total that fell to 80,000 by the sixth issue and the title was withdrawn. It was reported as having cost £1m and needing another £1m and a year of losses to break even, an investment IPC was unwilling to make.

Around the same time, rival publisher Emap was investigating the men's market but rather than a general interest magazine launched music title Q for men aged 18-30.
IPC profile
---
Hot Press – Irish music magazine that stresses its journalistic credentials

Hot Press (Eire)

Osnovina, Dublin. Fortnightly. Rock. 1978-
Hot Press covers rock, pop and dance, nationally and internationally, from Dublin. Mixes music coverage with current affairs, cinema, sport, humour, books, fashion and politics. The January 2008 issue was devoted to the problem of drugs in Irish society.
Hot Press website
---

Ikon mixed music, film and sport

Ikon [closed]

European Consumer Pubs, London. Monthly. September 1995-?
Chris Roberts was editor of this title, which covered music, film and sport (99p; 132 pp). The first issue carried a plastic 'privilege card' on the cover for discounts on events and products. The main cover line was: 'I'm not homosexual and I'm not heterosexual. I'm...sexual' with Paul Morley interviewing the 'wild one' of REM. Other articles covered: Belly; Alan Shearer; Kevin Costner; Martin Amis; Blur's football focus; Eddie Irvine; Sandra Bullock; Black Grape; Batman; Christina Ricci; and Soul II Soul.
---
Kerrang! issue 4 featuring German heavy metal guitarist Michael Schenker

Cover from 6 August 2008

Kerrang!

Spotlight Publications (United) / Emap / Bauer. Heavy metal. Weekly. June 1981-
Kerrang! started out as a supplement to Sounds. In 1991, it was sold to Emap (which was taken over by Bauer in 2008) when United pulled out of consumer magazines to concentrate on its business titles such as Music Week.

Emap launched Kerrang! as a national digital radio station in 2000 and there is also a TV channel. Kerrang! now claims to be the world's biggest-selling rock weekly, having vied with NME for the top-selling UK position since 2002. There are also Australian and Spanish versions.
Emap profile
---

Kicks mixed music with fashion. Bow Wow Wow's Annabella Lwin was on the cover

Kicks [closed]

Teenage Kicks, London. Pop. MOnthly. November 1981-?
The first issue of Kicks covered music, fashion, film and advice on sex problems. It also published the lyrics and music to 'Play to Win' by Heaven 17. Annabella Lwin, 15-year-old singer for Malcolm McLaren's New Wave band Bow Wow Wow was on the cover with an interview by Debbie Geller of US magazine Rolling Stone.

The editor of the 48-page magazine was Bert MacIver with design by Andy Dark. Only the centre 8 pages and cover were printed in colour. Contributors included Robin Bextor.
---

Kingsize closed after just four issues

Kingsize [closed]

Emap Performance, London. Monthly. April-August 2001.
Editor Ben Mitchell saw Kingsize as 'Bigger. Louder. Faster. Whatever...' but this rap-metal crossover also closed faster than most – after just four issues.
Emap profile
---
Klub Knowledge [now Notion]

Music HQ Media, Watford.
In March 2004, after 5 years as an A5, London-only clubbing magazine, Klub Knowledge expanded its size and distribution (£3.50. 196pp plus gatefold; editor: Bill H.). The design used colour bands in the page margins to differentiate sections. Its tagline was: 'The dream that is the 20-something lifestyle'. Later taken over by Notion magazine.
---
Melody Maker at Christmas 1928 with a colour cover by John Morton-Sale – an advert: for 'Was It a Dream' from Campbell, Connelly band

Relaunch for 13 December 2000 issue of Melody Maker from a tabloid paper to an A4 magazine

Melody Maker (MM)

Odhams / Longacre Press/ IPC. Weekly 1926-

Melody Maker was founded in 1926 for musicians. It developed a strength in jazz and was always regarded as more serious than its great rival (and later stablemate at IPC) New Musical Express. As late as 1963, it was described in the Writers' and Artists' Year Book as seeking: 'Technical, instructional and informative articles on jazz and pop music'. By the mid-1970s it was selling 250,000 copies a week but was slow to respond to the arrival of punk and lost sales to Sounds and NME.

IPC claimed to have spent £1 million overhauling New Musical Express and Melody Maker in March 1998. However, sales carried on falling. NME reported a year-on-year decline of 13.5% to 92,367 while Melody Maker's circulation fell 11.5% year on year. By mid-2000 MM was down to 32,206 while NME had stemmed its decline at 76,215.

In 1999, Melody Maker relaunched as an A4 glossy magazine. The 22 December 1999 edition was a double issue to cover the fortnight over Christmas and New Year. At 112 pages it was described as the biggest ever issue by IPC and cost £1.70. However, the change failed and a year later it was taken over by NME.
IPC profile
---

Metal Hammer specialised in gruesome covers (January 2001)

Metal Hammer

Dennis / Future / Team Rock. Monthly. Heavy metal rock. 1986-
Dennis launched Metal Hammer and sold it in January 2000 along with its website and three other magazines (including Classic Rock) to Future. The heavy metal title claimed to lead the 16 to 21-year-old market at the time. By December 2003, Metal Hammer was selling 35,876 copies a month. In turn, Future sold Classic Rock and Metal Hammer to Team Rock in April 2013 for £10.2 million.
Future profile
Dennis profile
---
Ministry [closed]

Dennis contract for Ministry of Sound club. January 1998 – December 2002. Editor: Pauline Haldane
With Judge Jules mix CD. After Ministry closed in 2002, the Ministry of Sound tried to launch another title, Trash, as a contract magazine with Condé Nast in 2003.
Dennis profile
---

First issue of Mix in 1986: 'The new testament of pop' according to the cover

Mix [closed]

Rapid 469, London W2. Pop. Monthly. October 1986-?
The main cover lines for the launch issue of Mix were 'The secret life of New Order' (whose name was the same as a neo-Nazi group and used sleeve designs for their records borrowed from 1930s fascist posters) and 'Pete Wylie's heroes'. In the latter interview 'the Liverpudlian bigmouth' (you can tell it was a London-based magazine) nominated among his eight, actor Sam Kydd, Brian Jones, Dusty Springfield and Alonzo Tuske (who walked up and down with a placard saying 'I hate the Beatles' when they arrived to the sight of screaming hordes in the US). William Shaw was editor with Coneyl Jay as the unusually titled visual/photographic editor responsible for some grainy, moody visuals (85p; 64 pages). Jay became a photographer.
---

Redesign in 2004 for Mixmag

Mixmag

DCM/Emap/Development Hell, London. Monthly, 1983-
Emap bought Mixmag from independent music company DMC in 1997 for an undisclosed sum. It then had an 80,000-circulation, having been launched 14 years earlier as a newsletter for DJs. Word publisher Development Hell bought clubbing magazine Mixmag from Emap, paying 'a seven-figure sum' for the 46,470-selling title in 2005. (Word was selling 33,376 a month for £4.20.) The £3.85 Mixmag might have been too small a niche for Emap, which had developed radio stations around Kerrang!, Q and Mojo.
Development Hell profile
Emap profile
---

Dylan and Lennon front the first Mojo

Mojo

Emap/Bauer, London. November 1993.
10 issues a year, misses Feb and Aug. Ed: Paul du Noyer. 132 pp. £2.25. Dylan and Lennon cover
Emap profile
---
Mojo Specials

Emap. March 2002.
Emap launched 'Mojo Special Limited Editions' in 2002 at £4.99 with each issue dedicated to a band or genre. The first edition was 1000 days that shook the world: The Psychedelic Beatles. The actual copy shown here was numbered 78,395 of a 'limited' run of 90,000 copies. 148 pages. Cover with silver ink; not laminated: 1000 cut out as holes.
Emap profile
---

Muzik set itself up with the motto 'Dance music is the music of today' but always came in third after Mixmag and Ministry

Muzik [closed]

IPC, London. Monthly. June 1995-2003
'Dance music is the music of today' was the agenda for the first issue of Muzik (95p; £2.20; 124 pages; editor: Push). Coverage included: house, techno, jungle, garage, hip hop, ambient and soul with 'definitive' club listings. described by the company as the first title to be solely dedicated to dance music.

The idea was sparked by the dance pages of Melody Maker. Muzik sought an audience of '18-to-30-year-old men with disposable income who are obsessed with music and looking good' said Campaign ('IPC reveals plans for dance-music launch,' 10 March 1995, p7). It was also expected to appeal to readers with a similar profile to Loaded, which had launched a year earlier. Advertisers were guaranteed an initial circulation of 35,000 copies. Its first ABC came in at 40,544. Sales were 42,034 in 1998, though it was overshadowed by newcomer Ministry, which saw a first ABC of 61,395. It fell back to 40,097 in 2000. By 2001, though, dance music was back in vogue and magazine sales reflected this, with the market as a whole growing 20%. Emap's Mixmag saw its sales rise by nearly half, to 106,111. Ministry was at 90,235, despite a dip of 5% period on period. Muzik reversed a two-year downturn with a 9% rise to 43,748.

The April 2002 issue was relaunched for men in their twenties who were more serious dance music fans and budding DJs, and moved away from covering fashion and youth culture. It reflected Muzik's position behind Emap's Mixmag, selling 100,400, and Ministry at 75,200. Editor Conor McNicholas saw the title as as the serious voice of the sector, like 'a dance music Q' ('Radical editorial revamp for Muzik,' PR Week, 9 November 2001, p9). It carried a covermounted CD. In June 2002, McNicholas became editor of NME, but his relaunch had not worked: by August Muzik was seen as 'troubled', having dropped 11.2% in sales to 36,018. This was due to a downturn in the clubbing sector – Ministry closed before the year ended.

In July 2003, IPC announced the closure of Muzik. Media Week reported it was "no longer economically viable" following the demise of the clubbing scene. Tim Brooks, managing director of IPC Ignite!, said: 'Sadly, nothing [the staff] could do in isolation was going to turn around this sector of the music market.'

The sharp decline in the sector was demonstrated by Mixmag losing 34.7% of its sales year, from 91,944 to 60,070. Muzik sold just 36,089 copies.
IPC profile
---

Neon: launched in a box full of goodies with Select

Neon [closed]

Emap, London. January 1997
The first issue, a sample, came boxed with an issue of Select. As well as the two magazines, the box held:

Corn Pops;
2 Twiglets;
Jolly Ranchers;
Riesen choc chews;
Beautiful South bar mat.

However, Neon was not mentioned on the box!
Emap profile
---

NME: first Russian issue in 2001
NME with 'moving' lenticular cover of Pete Best in 2004

New Musical Express (NME) [closed]

IPC/Time Inc UK, London. 1952-
In July 2015, US-based Time Inc announced the magazine would turn into a freesheet in September. It had been selling just 16,000 copies a week. It went online-only in 2018. A year later, the name was sold to a Singapore tech start-up called BandLab. Back in 1973, NME was selling almost 300,000 copies a week, ahead of weekly tabloid rivals, Melody Maker, Disc, Record Mirror and Sounds. All of those weeklies collectively known as 'the inkies' (because the ink came off on your hands) have closed. Even so, sales had wilted in the face of online services such as Spotify and iTunes to just 15,000 copies and the magazine had been unable to find a new raison d'etre. The publisher said it would raise distribution to 300,000 copies in stations, universities and shops.

In May 2006, an IPC press release claimed: 'The NME is the biggest-selling and most respected music weekly in the world. Every week it gives its readers the most exciting, wittiest, most authoritative coverage of the very best in music.'

It launched a Russian edition in 2001.
Time UK Inc profile
---

No1 from 15 June 1985

Wendy James of Transvision Vamp on the cover for the week of 1 November 1989. Number One carried the strap 'Britain's best-selling pop weekly' (Smash Hits was fortnightly)

Number One columnists included Pete Waterman, the radio producer and later Pop Idol judge

No 1 / Number One [closed]

Holborn Publishing Group (IPC)/BBC Enterprises, London. Weekly. 1985-1990

No 1 was a pop weekly aimed at the 13-to-19 age group. Reports said £343,500 was spent on TV advertising for the launch and the title was selling 146,302 copies a week by 1988. (Chartbeat was launched as a fortnightly on alternate weeks to Emap's Smash Hits at the same time but soon folded.)

At the start of 1989, No1 was selling 130,721 copies a week – but fortnightly Smash Hits was roaring away at Emap with 786,886. No1 was redesigned with a more sophisticated look and logo under editor Colin 'French Kiss' Irwin. Columnists included Pete Waterman with a Hitman! piece, Help!, with Pat Thomas answering queries and Parlez-vous Pop?

However, circulation wilted in the face of the competition from Emap to 102,347. In April 1990, IPC sold the 'ailing' Number One to BBC Enterprises, which announced it was suspending publication from August 8 to prepare for a relaunch in October. Former Fast Forward editor Nicky Smith said No1 had lost its way under IPC as it tried to appeal to an older readership.
IPC profile
BBC Magazines profile
---
---
Observer Music Monthly

Observer newspaper, London. Free supplement; 68pp. Ed: Caspar Llewellyn Smith 21 September 03-
Third in magazine strategy from the Sunday newspaper, after Food and Sport monthlies. Features included cover interview with Britpop band Blur, David Bowie with comedian Ricky Gervais' and 'dope smoking pygmies'. Editorial stated: 'a magazine reflecting such diversity with style and authority is long overdue'. Cover line 'With a bang' appeared to be a dig at Future title Bang.
---

Opera magazine cover from October 2016 shows US bass-baritone Kyle Ketelsen as Figaro

Opera magazine cover from 1951

Opera

Opera Magazine Ltd, London. Monthly. February 1950-
Opera magazine was founded in 1950 by the Earl of Harewood and describes itself as 'the world's leading opera magazine'. The editor (John Allison since 2000) works with an editorial board that includes Financial Times music critic Andrew Clark and other critics from Britain's national newspapers, as well as international correspondents covering performances worldwide. It is published in an A5 format. The magazine's complete 56-year archive of more than 800 issues is available to digital subscribers to Opera at Exact Editions
Opera magazine website
---

Opera Now put Dennis O'Neill on the cover as Don Carlo from Verdi's grand work


Opera Now

Opera Now Enterprises / Rhinegold, London. Monthly; later 6 a year. April 1989-
The cover of the first issue (£2; 108 pp) highlighted an 11-page main feature, with Antonia Fraser, Lord Harewood and others discussing the history of, and issues raised by, Don Carlo. The editor was Mel Cooper Opera Now website

---

First issue of Play Music, an independent magazine with free CD. The August 2008 issue is below


Play Music / Pickup [closed]

Genoa Bay Publishing / Standfirst Media, Kent. Monthly. November 2006-12
The first issue proclaimed the magazine's independence, that it was by fans for fans (£3.50 with CD; 212 pages. editor: Barney Jameson). The first three issues featured: Razorlight, Panic at the Disco, The Gossip & Klaxons; My Chemical Romance, Deftones, The Young Knives & Plan B; The Automatic, Taking Back Sunday, The Futureheads and We Are Scientists.

The magazine changed its name to Play Music Pickup, with the masthead stressing the final word, suggesting it was trying to change its name. It was published by Standfirst Media and the editor was Tim Slater, who closed the print edition. It survived for a time as an online magazine.
Facebook.com/playmusicpickup is no longer updated
---

Do you remember when rock was young? A thoughtful Cliff Richard on the cover of issue 3 of Pop Ten, a monthly that published charts based on readers' votes

Pop Ten [closed]

A. Hand, Heanor, Derbyshire. Pop. Pocket format monthly. 1962-?

Pop Ten was a pocket format title (1/-; 32pp; editor: D. Cardwell) printed in black and white with spot blue on the cover. Its big selling point was a chart based on votes by readers. In the May issue shown here, Cliff had taken over from Elvis in poll position (as at April 1). Readers' top artistes were: Cliff (2,829 votes); Elvis (2,640); Billy Fury (1,368); Bobby Vee (1,119); Shadows (1,110); Adam Faith (750); Eden Kane (693); Helen Shapiro (579); John Leyton (405); Kookie (288). The chart ran to 20 names (Russ Conway was 19th with 96 votes and Chubby Checker 20th with 78).

The centre spread carried a picture of Presley in Blue Hawaii. Other full-page photos were devoted to: Billy Fury; The Shadows; Bobby Vee; Adam Faith; the Everly brothers; John Leyton; Helen Shapiro; Eden Kane; and Cliff (back page). The articles carried details of the latest singles and addresses for the artiste's fan club. Readers could also print off some of the images.

A classified advert on page 3 was from the editor selling copies of Movieteen, a US title, which he had bought in Hollywood.
---

Popworld Pulp – Brooklands spin-off based on Channel 4 series closed after 2 issues

Popworld Pulp [closed]

Brooklands Group. Weekly. 11-18 April 2007
Channel 4 spin-off costing £1.49 that aimed to vacate the hole left by the closure of Smash Hits! – and touted as the first new music weekly in more than 20 years. However, the title closed after just two issues! The company said the title had researched well but that buyers just failed to appear.
Brooklands profile
---
Q first issue with Paul McCartney as the main feature

Q: August 2001 issue

Q

The Emap triumvirate of editor Mark Ellen, editorial director David Hepworth and art director Andy Cowles was behind this launch. In his first issue note, Mark Ellen wrote: 'Magazines tend to bracket people by taste, or what they assume that taste to be. This is a magazine that doesn't. but still brings you a wide range of news, comment, interviews and insight. We don't presume to know what you like but we hope you like this.' Paul McCartney was the subject for the first Q interview, setting the tone for the magazine (and Ellen and Hepworth's later launch Word).

In September 2001, Emap Performance Network announced it was to launch a masthead TV show based on Q . The show will be called QTV. And Radio Q will be broadcast 24 hours a day, seven days a week across north London, starting in October.
Emap profile
---

Rave: 'The frank look at today's pop world' with the Beatles on the cover of its first issue in 1964

Rave [closed]

George Newnes (IPC). Pop. Monthly. February 1964-1971
Rave gave readers 'The frank look at today's pop world' in 64 pages each month, about a quarter of them in colour. Early covers were dominated by the Merseybeat scene such as the Beatles and Cilla Black. There was a poster on the back cover and on the colour centre pages. Radio and TV disc jockey (DJ) Alan Freeman wrote interviews. The magazine expanded into a more general youth magazine, covering fashion and film, particularly pin-up Hollywood stars such as Steve McQueen. It was folded into the George Newnes teen weekly Fabulous 208 in September 1971
Rave magazine covers from 1964 to 1971
---

Rogue Magazines' Raw was bought by Emap within 7 months of its launch. The first issue carried an Ozzy Osbourne flexi disc cover mount

Raw (Rock Action Worldwide) [closed]

Rogue/Emap, London. Fortnightly / Monthly. 31 August-13 September 1988 – December 1995
The first issue of this heavy metal title from Rogue Magazines came with a free Ozzy Osbourne flexi disc in clear plastic mounted on the front cover (£1 Stapled. 60pp). Features covered AC/DC, Metallica and a report on the Donington 88 festival. The centre spreads was a poster of Deep Purple's Ian Gillan promoting the magazine's 'best of' poll.

The editor was Malcolm Dome; managing editor Dante Bonutto; and the design was by Mike Sinister. The associate publisher was former pop star Jonathan King, shown dressed in a schoolboy costume playing a guitar. In 2001, King was jailed for four indecent assaults and two serious sexual offences on boys aged 14 and 15. He served half of the seven-year term.

In April 1989, Emap bought the title, which claimed a circulation of up to 35,000. Sales rumbled along at 25,00-30,000 but the title always trailed behind Emap's weekly Kerrang (which it had bought when United Consumer Magazines was closed by the Express newspapers group in 1991). In 1995, Emap took Raw off the shelves for several weeks and relaunched it with a sample issue free with a boxed edition of monthly Select. The aim was to base the title on pictures and news to complement Emap's Select an additional, more frequent, read. However, it closed within five months.
Emap profile
---

Cliff Richard on the front cover of tabloid format Record Mirror in the 1960s

In December 1984 with Paul Young on the cover and touting the 'official Top of the Pops chart' on its masthead


In its final month: the 9 March 1991 issue

Record Mirror (RM) [closed]

Spotlight Publications (United Consumer Magazines) ?- April 1991

Record Mirror published the first UK album chart in 1956. In the 1970s, it was selling 136,000 copies a week, though it always lagged behind the likes of NME and Melody Maker. Like all the tabloid 'inkies' its circulation fell in the mid-1980s. Between 1985 and 1988, it dropped 28 per cent. It switched to a glossy magazine format to try to compete with the likes of Smash Hits and the many launches of the period.

The editorial strategy and design switched as well. However, this did not halt its decline. Although advertising was healthy and it had found a niche in the dance scene with a readership among DJs, it was selling just 31,000 copies a week. So it was taken into the business title Music Week as a charts supplement in 1991, at the same time as the company closed Sounds. The publisher, Daily Express owner United, was by this stage pulling out of consumer magazines to concentrate on its business arm. It sold its other titles to Emap.
---

Revolver joined the Future stable in 2006

Revolver (US)

Future. Monthly. Heavy metal
In March 2006, Future bought US heavy metal music title Revolver – 'The world's loudest rock magazine' - from Harris Publications for £2.3m (US$4m). The company also bought Guitar World from Harris in 2003.
Revolver website
Future profile

---

Rhythm magazine in June 1937 with a cover by Bernard Greenbaum

Rhythm [closed]

Odhams. Monthly, big bands and jazz. c1926-?
Claimed nett sales certificate of more than 15,000 copies. Ran a jazz crossword. The 1937 issue shown here carried a Tommy Dorsey feature with a full-page caricature by B Ten Hove (an anagram of Beethoven?)

---
Rhythm

Future, Bath. 13/year. Practical/Playing. 1985-
Drumming magazine with a CD to help readers improve their playing.
Future profile
---

Rip and Burn: for the MP3-carrying generation

Rip and Burn [closed]

Haymarket, London. November 04 £3.30; 164pp. Ed: Matt Snow

The offer of a free 30-day trial with the new, paid-for version of Napster, and Eminem on the cover are clear signs that this launch aimed at MP3-carrying youth. However, it only lasted for a handful of issues.
---
Rock Sound

There have been two magazines with this name:

Freeway Press. Rock. Monthly. April 1999-? [closed]
The first issue was launched at a £1.95 offer price with subsequent issues costing £2.35. It came with a CD and bound-in poster just under A3 inside.
Rock Sound Ltd, London. Monthly. Rock. 2006-
Rock Sound website
---

The first UK edition of Rolling Stone in June 1969

Rolling Stone

In June 1969, US fortnightly music magazine Rolling Stone launched a British edition. The Who's Pete Townsend was the cover image. The format was a tabloid newspaper, like the 'inkies', but it folded over to an A4 format with the cover shown here. The idea has been used many times, including with Flipside. However, the attempt was a failure and the UK version closed after a few months.
---
Rotations [closed]

November/December 1996. Rotations UK. £2.95. Editor: Steve Edwards
Round, die-cut format with CD. Packaged in plastic bag with card backing (to stop it rolling off the shelves?!)
---
RWD

RWD Media, London. Dance. Monthly.
---

Prince on the cover of the first edition of Select in 1990

Select [closed]

United Consumer Magazines/Emap. Monthly. June 1990-2001 £1.50; 164pp. Ed: Tony Stewart
Select pitched itself as a younger version of Q. United put a £500,000 advertising budget behind the launch and was estimated to have sold 109,845 copies (the guarantee to advertisers was 75,000). Q was selling 159,047 copies a month in the second half of 1989. Its strapline was 'Mixing music every month'. Issues carried cassette tapes on the cover.

Select was taken over by Emap. In December 1995 (£2; 148pp. Ed: Jon Hotten), the magazine came in a box with the Stone Roses on the front in a graphic style reminiscent of washing powder. As well as the magazine, the box contained:

Raw launch issue;
Nik Naks;
Twix;
Twirl;
Tango;
Blur scratch card.

In January 1997 (£2.30; 132pp. Ed: John Harris), Emap used the same idea for the launch of Neon.
Emap profile
---

Debbie Harry and Blondie were on the cover of the first issue of Smash Hits in 1978

Smash Hits! [closed]

Emap. Monthly. November 1978 – 13 February 2006.
Smash Hits! became an iconic title whose sales peaked at a million in 1989 but fell steadily to 120,000, behind BBC rival weekly Top of the Pops, which is shored up by its link to the TV programme. Emap also closed Just Seventeen in 2004, the closures signifying a switch in teenage spending to online and mobile phone based media. The name lives on as a digital music TV channel and radio station, online and as a mobile phone service. A temporary 'blubathon' website was set up to mark the title's closure at SmashHits Forever.

Smash Hits! was a springboard for many journalists, including founding editor Nick Logan (The Face), David Hepworth and Mark Ellen (who together founded Word publisher Development Hell), Barry McIlheney and Heat editor Mark Frith.

The week the closure was announced, a copy of the first issue sold on Ebay for £30. The seller, Ruth, said: 'I bought it. Smash Hits! was the best pop magazine of its time. I'm 35 now and I used to buy it regularly from about the age of 8 to 13. I remember tearing out the posters to cover my walls and singing along really girlie to the songs.'

A book, The Best of Smash Hits by Mark Frith (editor), was published by Little, Brown in 2006.
Emap profile
---

Songlines world music magazine comes with a CD eight times a year


Songlines

£3.80; 116pp. Ed: Simon Broughton

Launched in 1999, Songlines is published eight times a year and 'looks at the world through its music'. It is edited by Simon Broughton, co-editor of The Rough Guide to World Music. Coverage is from traditional and popular to contemporary and fusion; from Afghanistan to Zimbabwe; from Miriam Makeba to Mariza; from Gilberto Gil to Gogol Bordello and from Bjork to Buena Vista Social Club. Each issue is distributed with a world music sampler CD. Cover price: £4.95.

The 50th issue – a collector's edition of 50 great moments in world music – is available as a free digital sampler of Songlines.
---

Australian music monthly Sound used a square format

The issue came in a 'record sleeve'

Sound (Australia) [closed]

Folio Publishing Pty Ltd, Sydney. October 1967
The first issue of Australian music monthly Sound came in a record sleeve and used a square format. It cost 45c, ran to 52pp and the publisher/ed-in-chief was Alan Edenborough.
---

Sounds from December 1979 with Deep Purple and Rainbow guitarist Ritchie Blackmore on the cover

Sounds [closed]

Spotlight Publications (United Newspapers). Weekly. Rock/Heavy Metal. October 1970-April 1991
Sounds had a big readership among musicians and kept its newspaper format but circulation fell steadily in the 1980s. It was big in heavy metal and Kerrang! was a supplement before being launched as a separate title. Sounds was closed in 1991 at the same time as Record Mirror when United pulled out of consumer magazines; and sold its other titles to Emap.
---

Sun Zoom Spark from November 1994 featuring Radiohead and Thom Yorke

Sun Zoom Spark [closed]

S-Z-S, Galashiels. £1.60; 68pp. Alternative rock and Britpop. Ed: Brendan McAndrew
Sun Zoom Spark started off as a fanzine covering alternative rock and Britpop before relaunching as a colour monthly. The title was a Captain Beefheart track. Issue 6 shown here, dated November 1994, put Radiohead's Thom Yorke on the cover: 'I'm in a band ... I've got to be hard.'
---
Tense magazine first issue in July 2003


Tense [closed]

Tense. July, 2003-?.
Focus on (black) urban music and lifestyle. Good range of interviews (photographer Rankin, attitude from DJs Trevor Nelson and Tim Westwood, and actress/singer Michelle Gayle: 'Men have to shower at least twice a day. If he wants something then he's gotta clean up before bed.'); professional feel to design and writing. Price label graphics used for bylines and on cover (£3; 100 pages; editor: Toussaint Davy).
---
Terrorizer magazine in 1998 featuring Iron Maiden

An even creepier cover from July 2008

Terrorizer

Dark Arts, London. Heavy metal. Monthly. October 1993-

Terrorizer bills itself as 'the world's number one magazine for extreme music of ANY kind ... Whether it's Metal, Hardcore or Industrial'. The list includes Metal, Black Metal, Death Metal/Grindcore, Doom/Stoner Metal, Hardcore, Punk, Industrial, Noise, Ambient/ Experimental and Gothic.

Half of its monthly sales were overseas. Each issue had a cover-mounted CD and poster; there is a free digital edition on offer every Thursday. The editor (August 2008) is Joseph Stannard.
Terrorizer website
---

Top of the Pops first issue cover in March 1995

Top of the Pops

BBC Worldwide, London. Fortnightly. March 1995-
Brand extension from the long-running television series, launched with Peter Loraine as editor (£1.25; 52 pages). It came with a cassette and poster to challenge, and ultimately defeat, Emap's Smash Hits, which closed in January in January 2006 after its sales halved in a year to 92,398.

Six months later, BBC TV announced the end of Top of the Pops, the world's longest running weekly music show (started in January 1964). The closure cast doubt over the magazine spin-off, whose sales had dropped to 96,576. However, with the demise of Smash Hits, TotP's sales recovered to 105,025 by 2007.
BBC Magazines profile
---
Total Guitar

Future, Bath. 13/year. Practical/Playing. 1996-
'Europe's best-selling – and hardest rockin' guitar magazine' runs the publisher's hype for a magazine that 'provides everything you need to become a better player: interviews and tips from the world's best guitarists, easy-to-understand reviews of the latest gear and most importantly, transcriptions of the best songs around with backing tracks to play along with our interactive CD'.
Future profile
---

Touch March 1994 cover of US rapper Snoop Dogg by Rupert Sanders

Touch [closed]

Studio 606, London. March 1991-?.
Editor Jaimie D'Cruz ran this magazine from Nursery Road in Brixton with the distribution handled by Time Out. It grew out of a title called Free! which had been run from Kiss FM before the station was licensed and continued for a few issues before the plug was pulled. Focus on black urban music though specialist music reviews and club listing with early issues describing it as 'the complete dance music perspective'. The first 25 issues were free, funded by advertising, but from June 1993, it cost £1 (there was no May edition). An editorial declared: 'And don't think ... we'll put Madonna on the cover. We are going to stay radical and independent in our approach – dissing those who deserve it and bigging up the small man who's trying a t'ing that no-one else wants to know about because he hasn't got a big record company.' After that it became 'the voice of the underground'.

Star writer was Troy Convers (an alias gleaned from 'controversy'). His column Troy's Tales continued from Free! and 'caused the most distress and ... has consistently been the most popular of our contributors'. The magazine was a breeding ground for photographers, Eddie Otchere, Rupert Sanders – who was art director and took the photograph of Snoop Dogg seen here, Will Bankhead and Simon Bower.

Ran for at least 50 issues (August 1985 cover date).
---

Trash from the Ministry of Sound put Cheryl Tweedy (later Mrs Ashley Cole and X Factor judge) from Girls Aloud on the cover

Trash [closed]

Contract title for Ministry of Sound by Conde Nast. July/Aug 2003
Former Dazed & Confused editor Rachel Newsome was brought in to pep up this Conde Nast launch for the clubbing company (£3.95, 168 pages with MoS CD). MoS had folded Ministry magazine in 2002. The move to Conde Nast took MoS back to where it had started – Ministry was originally produced as a contract title (by Dennis) before the clubbing group it took the title in-house.

Unconventional sectioning (eg 20 pages of city reviews, from Newcastle to Tokyo); grungy, underdesigned look and typography gave a fanzine feel; some unfortunate spreads resulted in editorial merging into adverts; naive, line graphics; used price-labels to pick out text. Several house ads for Ministry and Conde Nast's Glamour magazine CD (!). Target sales 100,000. Closed after just one issue.
Conde Nast profile

---

Uncut Bowie cover in March 2003

Uncut DVD spin-off in 2005

Uncut

IPC. Monthly, June 1997-
The first issue of Uncut cost £1.50 for 164 pages under editor Allan Jones. It called itself 'The music and movie magazine'. Carried ads for stablemate magazines Eat Soup and MBR. Uncut DVD was a spin-off published every two months starting in November 2005.
Uncut magazine website
---

Unzip: an interactive magazine on CD-Rom that used articles from NME and Vox

Unzip CD-rom [closed]

IPC/Zone, 1995-?
'The UK's first fully interactive magazine on CD-Rom' was the claim for this product. The content was based on New Scientist (which was then an IPC title) and music magazines NME and Vox. Zone did the technical work. The image of the head divided into marked areas was used as the graphical interface for accessing parts of the content. The Unzip CD-Rom came in a box with a 15 age label at £9.99 as an introductory offer (usually £15.99). Zone's managing director was Raja Choudhury (interviewed in Creative Technology April 1995).
---

Vox: 'from the makers of NME'

Vox [closed]

IPC. Monthly, 1990-?
Vox was IPC's response to Emap's Q (and had been talked about for a year under the name Max). It appeared with a format slightly larger than A4 and came with a 32-page magazine insert, Record Hunter, for collectors. The cover price was £1.50 under editor Roy Carr, but the launch issue was 95p to encourage sampling. IPC Holborn Group managing director Mike Tudball was reported at the time as saying that free cassette tapes (used on Select for example) performed badly in research. The 150,000 print run was supported by a £500,000 media campaign and advertisers in the magazine were guaranteed a 65,000 average circulation for the first three issues.

Record Hunter relied on classified advertising and would have become a standalone title had it succeeded.
IPC profile
---

The Wire: championing alternative, underground and non-mainstream music across the globe


The Wire

Namara Group (1984-2000); The Wire Magazine Ltd. Non-mainstream. Monthly. 1982-The Wire started as a jazz magazine but broadened out over the years to embrace alternative, underground and non-mainstream music across the globe. Coverage includes avant rock, electronica, hip hop, new jazz, modern composition and traditional music. Its tagline is 'Adventures in Modern Music'. In 1984, the title was bought up by Naim Attallah, a former foreign exchange dealer and book publisher, who was the backer for The Literary Review and also later The Oldie (a certain irony here in that during his tenure as Private Eye editor, Oldie founder Richard Ingrams had lampooned Attallah as the 'The Ayattallah'). By the time Attalah retired at the end of 2000, The Wire was established and was bought out by publisher Tony Harrington and the staff. The Wire is widely distributed internationally and is involved in running international music festivals.

Wire website
---

Word cover featuring Joni Mitchell from April 2007 (the 50th issue)

Word [closed]

Development Hell, London. March 2003-12. £3.50. 132 pages. Editor: Mark Ellen
'Music and Entertainment now.' A 'serious entertainment' magazine for men from Development Hell, a new publisher involving ex-Emap executives David Hepworth, Jerry Perkins, Mark Ellen and Andrew Harrison. Nick Cave on the cover.
'New! Something to read !' screamed the cover-line filled half cover. Interview with Maxim publisher Felix Dennis.

For the 50th issue, editor Mark Ellen discussed what issues had sold in an interview with Ian Burrell in the Independent. Ellen, a former editor of both Q and Smash Hits, said the September 2003 edition with Dido as the cover star remained 'both nailed and glued to the shelves'. A Prince cover had a similar effect, but for Tom Waits 'extra forests were felled to sustain monumental sales boost'.

The magazine closed with a final issue dated August 2012, with the publishers blaming 'dramatic changes in the media and the music business' that had made it difficult for independent publications to survive. It was selling about 25,000 copies at the time.
Development Hell profile
---
X-Ray [closed]

Contract title by Swinstead, London, for Xfm. November 2002. £2.50; 132 pp. Ed: Rich Sutcliffe
"The music of tomorrow." With free CD on card backing; handbag-sized. Issue 2 in Feb 03; then monthly
---

Zigzag - first issue of the rock monthly in 1969 10cc's 'I'm Mandy Fly Me' inspired this pre-punk cover in 1976

German band X-Mal on this September 1984 Zig Zag cover

Zig Zag [closed]

Mentorbridge, London / Emap. April 1969-198?

Indie rock magazine founded in 1969 that was bought up by Emap but closed in the 1980s.

Emap tried to relaunch Zig Zag in 1990 with a distribution deal through Our Price Records, but it folded after just one issue. The relaunch would have put the Emap Consumer Magazines division in competition with Emap Metro's successful Q, though it would have aimed at a slightly younger audience.

Emap profile
---
Top-selling music magazines (2008)

Title
Publisher
Genre
ABC figure*
Q (M)
Emap/Bauer
Rock
131,330
Mojo (M)
Bauer
Rock
106,218
Top of the Pops (F)
BBC Magazines
Pop
105,025
Uncut (M)
IPC Media
Rock
91,028
Kerrang! (F)
Emap/Bauer
Rock
76,937
Classic Rock (M)
Future Publishing
Rock
67,399
New Musical Express (W)
IPC Media
Rock
64,033
Total Guitar (M)
Future Publishing
Practical/playing
48,673
BBC Music Magazine (M)
Bristol Magazines
Classical
47,104
Metal Hammer (M)
Future Publishing
Rock
45,809

Sources: ABC (www.abc.org.uk) *Jul-Dec 2007


---
Music magazines: details and sales

Title
Publisher
Genre /
Launch date
Sales
2007*
BBC Music Magazine (M)
Bristol Magazines
47,104
Big! (M)
Emap
Pop 1990
closed
Classic Rock (M)
Dennis / Future
Rock 1999
67,399
Classic FM: The Magazine (M)
Haymarket Media
Classical
41,412
Cream (M)
Bob Houston
Rock 1971
closed
(The) Fly (10/year; free)
Channelfly Enterprises
Rock
103,051
(The) Face
Wagadon/Emap
Music/lifestyle
closed
Future Music (M)
Future Publishing
Practical/Playing
9,787
Gramophone (M)
Gramophone Publications
Classical
36,817
Guitar Techniques (M)
Future Publishing
Practical/Playing
20,924
Guitarist (M)
Future Publishing
Practical/Playing
29,419
Hot Press (M)
Osnovina
Rock
19,215
Kerrang! (F)
Emap/Bauer
Rock
76,937
Metal Hammer (M)
Future Publishing
Rock
45,809
New Musical Express (M)
IPC Media
Rock
64,033
Mojo (M)
Bauer
Rock
106,218
Mixmag (M)
Development Hell
Dance
35,817
No 1 / Number One (W)
Holborn Group (IPC)
Pop
1985-1990
closed
Opera (M)
Opera Magazine Ltd
Opera
n/a
Pop Ten
A. Hand
Pop 1962
closed
Popworld Pulp
Brooklands / Channel 4
Pop April 2007
closed April 2007
Q
Emap/Bauer
Rock
131,330
Rhythm
Future Publishing
Other
9,914
Rock Sound
Rock Sound
Rock
23,021
RWD
RWD Media
Dance
33,266
Smash Hits (M)
Emap
Pop 1978
closed 2006
Songlines
Songlines Publishing
World, 1999
n/a
Total Guitar (M)
Future Publishing
Practical/playing
48,673
Top of the Pops (F)
BBC Worldwide
Pop 1995
105,025
Touch (M)
Studio 606
Dance / clubbing
n/a
Terrorizer (M)
Dark Arts
Heavy metal 1994
14,952
Uncut (M)
IPC Media
Rock
91,028
(The) Wire (M)
The Wire Magazine Ltd
Non-mainstream (1992)
n/a
Word (M)
Development Hell
Other
closed 2012
33,217 (25,000)
Zig Zag (M)
Mentorbridge
Heavy metal
closed

Sources: ABC (www.abc.org.uk)