8.Nova: Causing a Royal Fuss in the Swinging Sixties
by Tony Quinn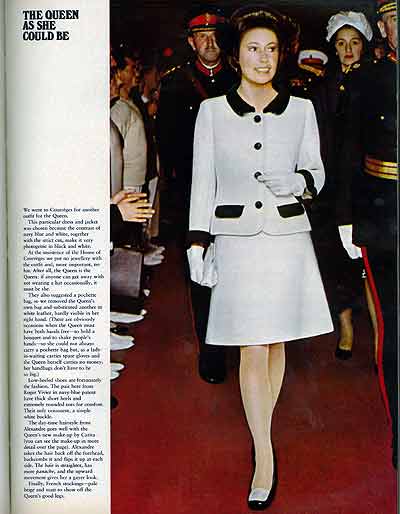 Women's monthly Nova ran a July 1968 feature: 'What Paris could do for the Queen'. According to the book Nova 1965-75 by the magazine's designers, David Hillman and Harry Peccinotti:
'[French fashion designer André] Courrèges [who, with Mary Quant, lays claim to the invention of the miniskirt] agreed to dress a model with the same measurements as Her Majesty (gleaned from Madame Tussauds). [Parisian beauty house] Carita did the make-up and [Parisian salon] Alexandre the hair.

'The pictures were retouched in New York and promptly impounded in Britain on their return.

'They were finally released only with further retouching to lower the hemline and the sanction of Buckingham Palace.'
Even today, the only public figure whose image tends not to be manipulated is the Queen.
---
Page 9: GQ and Winslet: The debate today