Sun owner Rupert Murdoch buys The Times in 1981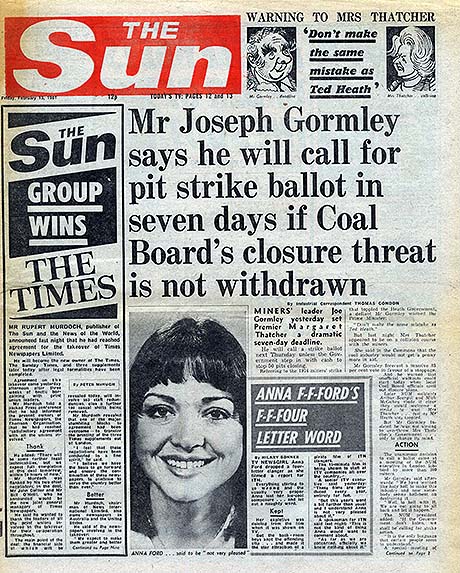 Rupert Murdoch, an Australian media mogul, already controlled the
Sun
, which editor Larry Lamb had turned from a left-leaning broadsheet into a populist tabloid famous – or infamous – for its topless models on page 3. This event was the foundation of News International and gave him a base from which to shape the media industry iin Britain – and then today's global media industry.
The front page is split in two. The left side takes a typical Sun approach, while the other side is in the style of The Times, with the wordy headline displayed in 48 point Times bold.
The date of the announcement was Friday, the 13th of February. This seems deliberate. The executive suites and Murrdoch's office in the News Building opposite The Shard in London, where both papers moved to from Wapping in 2016, are on the 13th floor.
Below is page 9 of the edition. It continues the front page story and has two other elements:
'The Times goes topless': the takeover target ran an advert on its page 3 showing the Spirirt of Ecstasy, the topless mascot carried on the radiator grill of Rolls-Royce cars. The Times editor, William Rees-Mogg, commented: 'It's an extremely entertaining advertisement.' It would not be the last Sun-style element that the Times would adopt.
An image of Vivien Neves, the model who had first appeared naked in an ad in the Times in 1971.