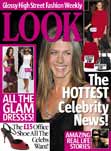 Look dummy cover – compare with Emap's fashion weekly Grazia below. Also note that Look appears to have adopted the US convention of capitalising the initial letters of all the words in headlines

Look high street fashion weekly
IPC's 'Project Honey' – a launch with French partner Group Marie Claire – will be a 'glossy high-street fashion weekly' called Look, with an investment over two years of £18m. The target is to to sell 250,000 copies a week after a year on sale. Samples will go out in the last week in January with the first issue going on sale on Tuesday, 6 February. The editor will be Ali Hall, former More! chief.
IPC describes the title as 'a mix of up-to-the-minute affordable fashion, high street shopping advice, celebrity style and gossip'. The dummy cover, left and below, looks like a cruder, more cluttered version of Grazia, with a fatter masthead typeface, clunky boxes, a similar colour palette and is far more wordy.
The title will aim at women aged between 18 and 30 who have left home but have yet to settle down. As with Emap's weekly fashion glossy Grazia, celebrities will be a key part of the mix. In an interview with James Robinson in the Observer, Eve Webster, managing director of IPC Connect said: 'Young women now have 11 years from when they leave home to when they have children and they want to cram everything into their lives.' So the magazine will address this 'decade of indulgence'.
IPC and Groupe Marie Claire jointly publishing Marie Claire in the UK and Avantages and Famili in France.
IPC profile