London Opinion – the most influential cover
by Anthony Quinn
London Opinion
was one of the most influential magazines in the world. Yet, you have probably never heard of it: the reason being that it closed in 1954 when it was taken over by
Men Only
. However, you will undoubtedly recognise this 'Your Country Needs You' Kitchener cover, from 5 September 1914 at the start of World War One, even if you have never actually seen it, because it has inspired posters and graphic designers around the world since. The 'Kitchener poster' has proved to be incredibly powerful. To this day, prime ministers, film stars and presidents haven't really arrived until they've been pictured in that famous pointing Kitchener pose.
As an icon of the First World War, it was inevitable that the Your Country Needs You image was used – with the words 'Paxman needs YOU' below the journalist's superimposed face – on the Radio Times cover to mark the BBC's series for the Great War centenary in 2014.

London Opinion Kitchener cover
by Alfred Leete: 5 September 1914

Copy of Leete's design by James Montgomery Flagg on the cover of Leslie's magazine (6 July 1916)
This London Opinion cover, by Alfred Leete – and, yes, it was printed in black and white – inspired one of the most successful poster advertising campaigns ever (and I do not use the word ever lightly). The image showed the pointing figure of military hero Lord Horatio Kitchener of Khartoum, secretary of war responsible for the British war effort, with the words: 'Your country needs you.' The Lord Kitchener Wants You poster idea was taken up by the government in its recruitment campaign for volunteers and has been credited with encouraging more than two million men to sign up in the first two years of the war (conscription was introduced in 1916). The idea was copied in the US by James Montgomery Flagg, first for a colour Leslie's Weekly cover and then as an army recruitment poster, with Uncle Sam as the pointing figure.
Leete (1882-1933), was a printer from Weston-super-Mare and switched to illustration when Punch used one of his drawings in 1905. He clearly felt driven to bang the drum for the war effort. In the same issue as the Kitchener cover was this half-page cartoon: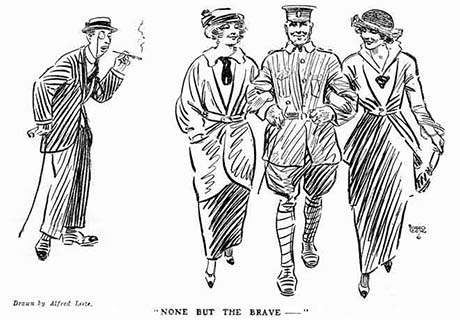 'None but the brave' – London Opinion cartoon by Alfred Leete in the Your Country Needs You issue will have reinforced Kitchener's recruitment campaign
The wimp above – have you ever seen a more chinless wonder? – is the one who doesn't sign up; the volunteer for Kitchener's Army is the one who gets the girls. What more attractive image could there be for a young man in Britain?
The London Opinion cover and subsequent Kitchener posters rendered the secretary of state for war – already a national hero from the Boer War – as one of the most famous faces in the world. He was made a Knight of the Garter, Britain's highest honour, a year later (though that couldn't save him from his fate in being lost at sea on HMS Hampshire when she was sunk by a mine on her way to Russia in 1916).
Leete's London Opinion cover idea was widely copied at the time, from Russia to Italy to the US – where it inspired an iconic Uncle Sam image of the country, akin to Britain's John Bull, by James Montgomery Flagg – and other countries:
| | |
| --- | --- |
| | Russian poster similar to Alfred Leete's Kitchener poster |
The 'funniest magazine of its era'
London Opinion was published by Pearson / Newnes and was one of the best-selling magazines for half a century. In January 1907, it had ran a limerick competition that sparked a national craze. Millions of people entered these competitions in many publications and 'a kind of national madness took hold', said Bob Turvey in the Financial Times. The number of entries grew so much that the magazine started asking for 6d postal orders, the proceeds of which were used to fund bigger prizes. In a statement in the House of Commons, the postmaster-general said that in the last six months of 1907, 1,140,000 6d postal orders were bought – half as many again as the usual 700,000-800,000.
Among today's famous names who cut their teeth in the magazine were Keith Waterhouse – Billy Liar, Flook, Budgie, Jeffrey Bernard is Unwell – who was first published in London Opinion at the age of 15, and Norman Thelwell, the horsey cartoonist, in March 1949. Dennis Gifford has described London Opinion at this time as 'probably the funniest magazine of its era'.
Copied across the world
Leete's Kitchener poster has inspired millions of copies and reworkings, such as the shop sign for I Was Lord Kitchener's Valet, the 1960s boutique that in turn inspired Peter Blake's idea for Beatles costumes on Sgt Pepper's and where Hendrix bought his military jacket. In 1997, the army put a black soldier in place of Kitchener on a poster to recruit more ethinic minorities. Read George Orwell's 1984 and you'll see the influence of Leete's Kitchener poster in fiction.
In 2002, Leete's iconic Kitchener poster was nominated as 'the best recruitment advert of all time' by advertising trade weekly Campaign. Eric Field was identified as the copywriter and Caxton Advertising the agency for the various versions – Field had coined 'Your King and Country Need You' for the first recruitment advertising in newspapers the week that WWI broke out. In 1999, Campaign had identified 'Your Country Needs You' as the second best poster of the century after Saatchi & Saatchi's 'Labour isn't working' of 1978.
The influence of the Leete illustration of 1914 has lived on, as in this Economist cover from September 2008, with US Treasury secretary Hank Paulson in the Kitchener pose:
| | |
| --- | --- |
| | Kitchener's pointing pose arrives on a 2008 Economist for a US-focused cover via James Montgomery Flagg's recruiting poster copy |
And the Daily Mirror (1 May 1997) ran an image of Tony Blair, then prime minister, with the slogan 'Your Country Needs Him' on its front page. Thatcher, Reagan, Trump – even Greta Thunberg – have all been photographed or portrayed in the Kitchener pose.
Leete went on to create the Father William figure for Younger's beers in the 1920s and 'Mr York of York, Yorks' for Rowntree's Chocolate, star of the first British animated film commercial with synchronised sound.
The best magazine cover in history?
So, is Leete's London Opinion the best magazine cover in history? Technically, no: it was (according to a Kitchener biography) done in a rush and cannot match the quality of many images, even from the Victorian era. The monthlies had much better production values in terms of their use of colour, plate-making and paper. However, how may covers find themselves being imitated – for an item about the credit crunch – by the influential Economist almost a century later?
| | |
| --- | --- |
| | Alfred Leete's monogram, with its distinctive dropped 'T'. He had used this style of monogram since at least 1908 in London Opinion |
If you have a view, send me an e-mail: tony [at] magforum.com or log into the blog, magforum.wordpress.com.
Sources
Campaign (1999) 'Poster advertising awards,' 15 October
Campaign (2002) 'The 10 best recruitment ads of all time,' 17 December, p9
Gifford, Dennis (2004) 'Obituary. Norman Thelwell: Prolific cartoonist famed for his popular strip about a half-pint heroine and her dimwitted pony,' guardian.co.uk, 10 February
Pollock, John (2001) Kitchener, Constable
'Straight and true,' Nottingham Evening Post, 14 April 2001
Martin Thatcher and Anthony Quinn (2014) Kitchener Wants You: The Man, the Poster and the Legacy, Uniform Press
Turvey, Bob (2007) 'For better, for verse,' 5 May 2007, FT Weekend Magazine, Financial Times, p22
Wroe, Nicholas (2001) 'A legend in his lunchtime [Keith Waterhouse],' The Guardian, 14 April