Men's magazines: an A to Z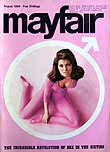 Men's lifestyle and fashion magazines, lad's magazines, glamour magazines, pin-up magazines and top-shelf magazines covered alphabetically. This page covers Mayfair to Monkey - the first weekly digital magazine for men - via Men Only and Men's Vogue. On other pages:
Introduction
Mayfair to Monkey (this page)
---

First issue of top shelf title Mayfair (August 1966)


Mayfair's second cover style with a framed image


Mayfair takes over King, July 1968; vol3 no7


This 1968 Mayfair cover marked a fascination with machine guns for men's mags. Maxim was named after one, as was CKM in Poland


'Incorporating King' title was used until 1972

Fisk Publications / Paul Raymond Publications, London. 1966-
Top-shelf men's magazine similar to Playboy and Penthouse, though Mayfair was not seen as being as bold as the latter.

The first issue of Mayfair had a single cover line below a picture of Raquel Welsh wearing a pink leotard inside a male symbol (derived from the shield and spear of the Roman god Mars): 'The incredible revolution of sex in the sixties.' The editor was Kenneth Bound. The male symbol was used for the first few issues, but the cover design was then changed to a framed picture and, in its third year, to the model image with full bleed.

In 1968, Mayfair took over King - a title that had been published since 1964 and was funded at first by Paul Raymond. Mayfair carried the line 'Incorporating King' on its cover until 1972.

In March 1982, it was announced that Robert Maxwell, chairman of British Printing and Communications Corporation, and Yvonne Fisk, managing director of Fisk, had reached an agreement for Maxwell to buy Mayfair. The Financial Times quoted Maxwell: 'It is the Playboy of the British magazine world. It is not a "girlie" magazine - the best evidence of this is that it is the only one of its type which WH Smith distribute as well as Playboy.' The magazine was controlled by Mary Fisk (widow of founder Brian) but Bound held a stake and persuaded Maxwell to let him mount a management buyout instead. Mayfair was selling about 430,000 copies at the time. (FT, 'Mayfair is now property of Maxwell,' 26 March 1982, p24; and 'Men & Matters: Mayfair bound,' 21 May 1982, p16.)

In December 1984, pornographic magazine publishers, including Mayfair, Penthouse (Sightline Publications) and Men Only (published by Paul Raymond) started to withdraw advertising for 'visiting massage services' because the police said the adverts were a front for prostitutes.

In 1988, Mayfair was selling about 330,000 copies a month, but this had fallen to about 250,000 in 1989.

In November 1990, Bound sold Mayfair to Paul Raymond Publications rather than rival Penthouse publisher Northern and Shell. The change of ownership saw the title become more aggressive in its imagery.

The publisher also spun off regular issues of Best of Mayfair, featuring 'Our most beautiful girls, finest features and funniest cartoons in one superb issue'. These covers also liked to name film and TV stars such as Bardot and Lesley Anne Down with the model usually standing or sitting on a pile of past isues of Mayfair.
---

First issue of Condé Nast's men's magazine Men in Vogue showing actor Edward Fox wearing a nutria fur coat. Photo by Norman Parkinson

Men in Vogue second issue in 1966: men in the sun; women in cars; the first 10,000: how they made it


Men in Vogue from autumn/winter 1970. Two lists of cover lines: fashion to the left and general articles to the right. Main cover line: 'The he-man as author: Hemingway and Fleming'

Condé Nast. Twice a year or quarterly. November 1965-1970
Associate editors of this fashion and lifestyle men's magazine were Robert Harling and Beatrix Miller. The first issue was banded on to November 1965 Vogue. It showed Edward Fox (then a stage and TV actor; 1973's The Day of the Jackal made him an international star) in a fur coat photographed by Norman Parkinson. It had 126 pages plus cover. Size: 12.25" x 9.25" (31cm x 23cm). Men in Vogue lasted at least until the autumn/winter 1970 issue.

Condé Nast drew back from launching Men in Vogue as a standalone publication and the same happened again in late 1984 (Marketing, 19 October, p10). Instead, the men's section in Vogue was expanded. The company said it did not consider that enough men would be interested in buying a fashion/style magazine, though considerable support was received from advertisers. In 1985, Cosmopolitan, Elle and Harpers & Queen all had dedicated sections for men. It was not until 2005 that Men's Vogue appeared.

Contents of the first issue of Men in Vogue in 1965:

'A reference for Mellors': author Anthony Powell considered what happened to Lady Chatterley and her lover
extract from Liverpool jazz man George Melly's biography, Owning Up
'The Englishman: the best dressed man in the world?' Featured James Astor, Cecil Beaton, Brinsley Black, Gay Kindersley, Nigel Lawson (BBC economics adviser and FT columnist), Jocelyn Stevens (editor-in-chief of Queen), Sir Fitzroy Maclean (a Scot), Christopher Gibbs, Lord Gormanston, Julian Ormsby-Gore
'The heroes of St Moritz': Tony Nash and Robin Dixon had won the world bobsleigh championship. Photographs by Terence Donovan
'The most Bailey girls in the world.' David Bailey on women he finds 'different, mysterious and interesting': Catherine Deneuve (his wife); Jean Shrimpton; Monica Vitti; Francoise Dorleac; Jeanne Moreau; Sue Murray
'Men and their cars': racing driver Jim Clark in a Lotus Elan; photographer Terence Donovan in a Silver Cloud II; Mark Boxer, editorial director of London Life, in a Rover 2000; Kevin Powell, Granada traines (Mini Moke); Peter Sheridan (Invicta 1930); Lord Snowdon (Mini and Aston Martin DB5);
'But you can get a girl with a gun' by Antonia Fraser
special report on winter clothes (cover feature). The models were all actors: Corin Redgrave, Edward Fox and Gilles Milinaire
'Ski and after'
Paris
'Narcissus revisited' grooming by Alan Brien
'What is travelling?': adventure, sport, business and travelling's sake
Christopher Gibbs' shopping guide to London
fashion award for 1965: worst-dressed man award for prime minister Harold Wilson
---

First issue of Men Only declared: 'We don't want women readers'

The July 1937 Men Only was the first to adopt a full-cover cartoon. 'We hope you like it. Just a bit strange at first,' said the editorial

November 1956: the 21st birthday issue featured a 16-page photo supplement on Marilyn Monroe, Audrey Hepburn, Gina Lollobrigida and Brigitte Bardot

Men Only ran cartoons on its covers from 1937 into 1958. This one, of Diana Dors, dates from Jan 1957

From 1959, photographic covers featured models and actresses, like this August 1960 cover after the takeover of Lilliput.

In 1965 with a larger format and more pin-ups; and, below, the first Men Only under Paul Raymond in 1971


Men Only

Pearson (George Newnes) / Paul Raymond. Monthly, December 1935-
Pearson launched the pocket men's magazine Men Only (stapled, 115x165mm) in 1935. Its editorial strategy was clearly stated:

'We don't want women readers. We won't have women readers...' It sought 'bright articles on current male topics'.

From the first issue, Men Only carried colour paintings of 'art' nudes. Early covers were drab; just the logo and cover lines against a colour background. In 1936, small black and white sketches of men were introduced and then in 1937 large cartoons. Comments from readers in the second issue were perceptive, raising issues that every men's magazine faces - now, as well as then:

'It looks like a guide-book to the British Museum.'


'Your title led me to expect something more thrilling – by Vie Parisienne out of Esquire [the US title that was only 2 years old] – and I find you too respectable for words'

'I only fear it will get vulgar; this kind of paper does in time.'

The May 1941 issue complained of paper shortages:

'Owing to increased demand and to this paper rationing, there are not enough copies of Men Only to go round ... We are sorry for those subscribers who cannot get their copies, but we are also a little sorry for ourselves. We have worked hard for success, and now that it has come we are robbed of it by this paper shortage. Believe us, we are properly browned off.'

Pearson had been taken over by Newnes in 1914, and in 1950, the Economist criticised the closure of the Strand and its takeover by Men Only. In May 1954 Men Only took over London Opinion, which had been launched in 1903. The issue also marked a relaunch, with a more racy cover style and colour plates of illustrated models, by artists such as Dickens and US artist Vargas, who had made his name on Esquire, on a page labelled 'Let's Join the Ladies.'

Men Only ran issues of nearly 200 pages in 1955, but it faded from then on, even though it also took over Lilliput (1960). It maintained the pocket format until 1963, but the cover was redesigned several times in an attempt to tempt readers back from television. The July 1963 issue carried three pages of advertising for a new, larger format: a spread on pages 2-3 and a single on p105. 'Make sure of the new man-size Men Only,' ran the copy, prompting readers to take out orders at their newsagents. It was a similar strategy to that used in 1954 to try to retain London Opinion readers. The next issue was due out on July 5. However, the magazine reduced its frequency to every other month.


The last pocket-sized Men Only advertised its new format. The issue featured a long article about Roger Vadim and his girlfriends: Brigitte Bardot, Annette Stroyberg and Catherine Deneuve

Newnes was part of the merger that created International Publishing Corporation in1963. By 1965, Men Only had been sold to City Magazines Ltd in Fleet Street, run by Leonard Matthews (who had been nicknamed 'Napoleon of the Comics' as director of Fleetway Publications). It reverted to a monthly, ran more pin-ups but was still mainly in black and white with a colour pin-up centre spread.

In 1971, Matthews sold Men Only to Paul Raymond, who ran night-clubs in London's Soho district. He relaunched Men Only (incorporating Escort) as the start of a 'top-shelf' publishing empire. By 1972, it was reported as selling 400,000 copies a month. So, as that perceptive reader had forecast back in 1936, the magazine did become a lot more vulgar.
Back to top
---

Men's Fitness sought to take sales from Men's Health

Men's Fitness

Mollin / Dennis, July 1996-
The short-lived publishing group Mollin had a strategy of licensing magazines from the US. It sought a slice of the Men's Health market with Men's Fitness in July 1996. This had a then-fashionable monochrome cover with a flourescent orange ink for the masthead. The Men's Fitness tagline reflected the lads magazine attitude of the time: 'Get fit or feel s**t.' Mollin folded and Men's Fitness was taken over by Dennis, though it has remained a long way behind the market leader.
Mollin profile
Dennis profile
Back to top
---

Men's Health was a US import from Rodale and has become the best-selling men's lifestyle title in the UK

Men's Health

Rodale/NatMag Rodale, February 1995-
Version of US monthly with David Hale as launch editor. In May 2004, The National Magazine Company and Rodale International set up a partnership in the UK, 'NatMag Rodale Ltd'. The joint venture publishes Men's Health and Runner's World under long-term licence from Rodale International.

As sales of lad's mags faded, Men's Health steadily rose to overtake first Maxim and then Loaded. In 2009, Men's Health became the best-selling men's title, reaching 250,247. FHM had shrunk from 775,000 in 1998 to 235,027 in the first half of 2009. Men's Health publisher Alun Williams claimed: 'The era of lads' magazines is over.' His title had recorded 15 consecutive year-on-year sales rises.

The steady sales of fitness titles led FHM to relaunch FHM Bionic at the end of 2008.
Rodale profile
---

Men's Vogue - arrived 40 years after the previous attempt to launch an upmarket men's magazine, Men in Vogue

Condé Nast, autumn 2005-
Quarterly aimed at men aged 34 and up earning $100,000 a year or more. Half of the 400,000 printed in the US for the first issue were sent to men fitting the target profile, with the remainder going to newsagents. Copies were also distributed in the UK. The magazine had to differentiate itself from stablemate GQ , though that has to some extent been dragged into Maxim /FHM territory.
Condé Nast profile
Men in Vogue
---

Mondo was a men's magazine aimed at older Loaded readers


Cabal, November 2000-May 2001
Front publisher Cabal followed IPC in tackling the 'post-Loaded generation' with Mondo, though like IPC's Later, it folded in 2001. The editor was Push and Mondo carried the strapline: 'Having a good time all the time'. Cabal, founded by former IPC editorial director Sally O'Sullivan, featured in a BBC2 TV series in autumn 1999.
Cabal profile
---

Monkey was a web-only digital magazine for younger men. Pages were 'turned over' by moving the mouse to the corner. There were interactive elements on each page, such as videos and animations

Dennis, 1 November 2006-2012
Lads magazine published as a free digital-only weekly email and for mobile phones by the Maxim and Week publisher. Monkey was a digital magazine that aimed to rival men's print weeklies Nuts and Zoo. It played on the Maxim link - 'In association with Maxim' it read along the bottom of the 'cover'. The digital magazine, for 16 to 30-year-olds, was sent by email each Wednesday. Dennis claimed to have signed up 250,000 people to receive the magazine before the launch. Monkey released a first ABCe figure of 209,612 copies a week. Dennis said the average reader after four months of publication was 28 and spent 45 minutes a week reading the title, with two–thirds of the readers not reading any other men's magazine. Dennis went on to launch the fortnightly iMotor and Gizmo using the same model.

Dennis has a history of innovation with 1995 CD-Rom magazine Blender, websites and mobile access, and this digital magazine took things further. The lad's weekly had 54 pages, which used Ceros technology from Applecart, an e-publishing consultancy, to give the appearance of being turned over (also used by Emap for Digital Living). In 2005, in a Guardian interview (15 August), Felix Dennis, founder of the company that publishes Maxim and The Week, had ruled out launching a printed men's weekly in the US. 'It is interesting that no one has rushed to launch one in America and anyone who does will be utterly crucified because there isn't anywhere to sell it. There's not a supermarket in America that would touch [Emap and IPC weeklies] Zoo or Nuts.'
Dennis profile
Digital magazines
Guardian interview with Felix Dennis
---