Robert Maxwell's
The European newspaper
by Tony Quinn
In June 1988, Robert Maxwell, chairman of Maxwell Communication Corporation and Mirror Group Newspapers, laid out grandiose plans for a pan-European newspaper. Two years later the first copies hit the streets. However, Maxwell was lost at sea from his yacht, the Lady Ghislaine – named after his daughter, now in a US jail over the Jeffrey Epstein scandal –at the end of 1991. His empire collapsed and it was found that he had stolen the pension investments of thousands of employees. The Barclay brothers bought the title and Andrew Neil, former
Sunday Times
editor, tried to revive it.
---



Maxwell's plans

Robert Maxwell, chairman of Maxwell Communication Corporation and Mirror Group Newspapers, laid out plans for his pan-European paper in June 1988. The idea was to sell a million copies of a paper published in English, with short articles aimed at multi-lingual European technocrats who spoke English as a second language. Maxwell, who spoke five languages, wanted closer links with Europe and saw the paper as a counterweight to the US titles Newsweek and Time; he wanted the 'voice of Europe' to have its own platform. Dummy editions were for a three-section broadsheet with articles in English, French and German.
---



The 'voice of Europe'

The European appeared as a colour weekly broadsheet in May 1990 with a brief to back 'supporters of the integration of Europe'. Ian Watson was editor. Maxwell said a million copies of the first issue were printed. He guaranteed advertisers a circulation of 225,000 copies in the first six months, 150,000 of which were expected to be sold in Britain. The paper was half in colour – at a time when most broadsheets were still black and white – with three sections: news, business and Elan, a tabloid arts review. In July, sales were claimed as 340,000; 187,000 in the UK and 153,000 in Europe. A £5m autumn marketing campaign was announced.

In February 1991, Maxwell appointed John Bryant, former editor of the short-lived Sunday Correspondent broadsheet, as editor. Maxwell had bought the Correspondent name after the paper collapsed in November. Watson became editorial director.
---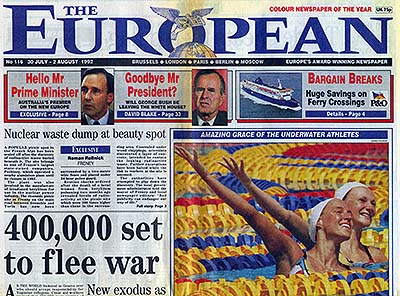 Top half of a European broadsheet newspaper front page in July 1992
---



'Le Piss Pauvre'

In February 1991, the first audited sales figure was 226,000 – 74,000 short of the break-even target. The paper announced it would produce overseas and UK editions that were 'significantly different'. Editor John Bryant said: 'The identity of The European has suffered from schizophrenia. It is a European paper, but published in this country, so it is judged as a UK English-language newspaper which is in competition with other national newspapers. I have decided to encourage staff to write just for readers in Europe and whenever necessary we will re-edit material for the UK edition.'

In the meantime, the satirical weekly Private Eye had given The European the nickname: 'Le Piss Pauvre.' (The magazine had also christened Maxwell 'The Bouncing Czech' and 'The Worthless Czech' and was sued for libel by him in 1986. The magazine lost and had to pay £55,000 in damages, with another £250,000 paid in costs.)

Yet sales slipped again and Maxwell sought to sell a half stake in the paper to cut its debts. In October 1991, Maxwell made a surprise move by trying to launch a North American edition; the paper already claimed to sell 15,000 copies of its UK edition there. However, within a month, many journalists in the UK were placed on a three-day week and some dismissed.
---



The Maxwell pension scandal

A month later, Maxwell was dead. The stock exchange suspended trading in the shares of MCC and MGN after the dramatic news of the media magnate's disappearance at sea from his yacht on November 5. The Maxwell empire crumbled. It was discovered that Maxwell had defrauded thousands of pensioners – £400m was missing from the pension fund – and the company's debts were estimated at £3 billion. (An obituary in the Telegraph [28 August 2008, p23] for the banker Lord Ashton of Hyde reported that he had 'firmly forbade his managers' at Barclays in Oxford to lend to Robert Maxwell in the period 1957-68).

Maxwell Communication Corporation was dismembered by Price Waterhouse, the administrator.

Mirror Group was sold to Liverpool Echo publisher Trinity;
Danish publisher Gutenberghus bought Fleetway Editions, Britain's largest comic publisher and owner of 2000AD as well as characters such as Judge Dread, Roy of the Rovers and Dan Dare, for about £5m (it already owned half the company);
Addison Consultancy bought AGB Research;
Mirror Print was eventually bought by Canadian group Quebecor.
---

The European as a weekly tabloid magazine (10 May 1998)

Under the Barclays

In January 1992, David and Frederick Barclay, identical twins who owned ships and hotels, bought the paper. A year later, sales were said to be stable at 200,000. Editor Charles Garside said the European had been losing about £1m a month under Maxwell. In May, the paper was able to bring back its suspended third section Elan and resume promotion. The growth in sales came from France, Germany and Spain. Sales in the UK were about a third of the total, although that share was declining.

But the upbeat news did not continue. In August 1993 the European dismissed 14 staff and laid out plans to move upmarket. It was selling an estimated 180,000 copies a week. In September, Garside resigned after 18 months as editor. He was replaced by Herbert Pearson, who had been managing editor since April 1991. However, nine months later Garside returned to the paper as editor-in-chief. Greg MacLeod, chief executive, had left and Pearson became associate editor.

In October 1996, Andrew Neil, former Sunday Times editor under Rupert Murdoch, was appointed editor-in-chief of The European and the Barclays' Scottish titles (The Scotsman and Scotland on Sunday, which they had bought in autumn 1995). Soon after, Garside left unexpectedly. Neil took over as editor with Pearson in day-to-day control.

In December, the paper said it had lost £13.5m in the previous year and run up cumulative losses of £50m. The price the Barclays paid was not disclosed but was thought to have been less than £5m.

Commentators regarded The European as having shifted its pro-Europe stance. In an article on 30 January 1998, the Financial Times described the paper as 'strongly Eurosceptic under editorial supremo Andrew Neil, former editor of the rightwing Sunday Times of London'.

In July 1997 Neil announced plans to transform The European into an upmarket magazine. The paper was to go tabloid and then become a colour magazine competing with The Economist, The Wall Street Journal, the International Herald Tribune and the Financial Times. Initially the price would stay at 75p but go up to £1 when it became a magazine proper. The first tabloid magazine appeared on 16 March 1998.

Neil then appointed Gerry Malone, a former Tory MP, as editor. The paper employed 60 journalists at the time. But in September 1998, the Barclay brothers announced that the weekly would be closed at the end of the year. The last issue was dated 14-20 December, with the coverline: 'Liftoff: Europe aims to be superpower of the 21st century.'
---

European newspaper last issue, 14 December 1998

Last gasp for the Barclays

In parallel with the European, the Barclay brothers announced they were to launch a weekly in France in spring 1998, with French newspaper Le Monde. L'Européen appeared in March with French TV journalist, Christine Ockrent as editor. But by August 1998, L'Européen switched from weekly to monthly publication because of poor sales and Le Monde announced it was seeking a new partner.

In October 1998, it was announced that the magazine, which was technically bankrupt, was to be relaunched with new backers but it never appeared.
---

The Business called itself London's first global business magazine (14 October 2006)

Déjà vu for Neil

In April 1996, Tom Rubython launched the weekly Sunday Business but this went into receivership a year later. It was bought by the Barclays and relaunched in February 1998 by Andrew Neil. In July 2006, he announced it was to to be relaunched again in October as a weekly business magazine coming out on Thursdays.
See News magazines case study
---